Directors
Theatre director training for visually impaired practitioners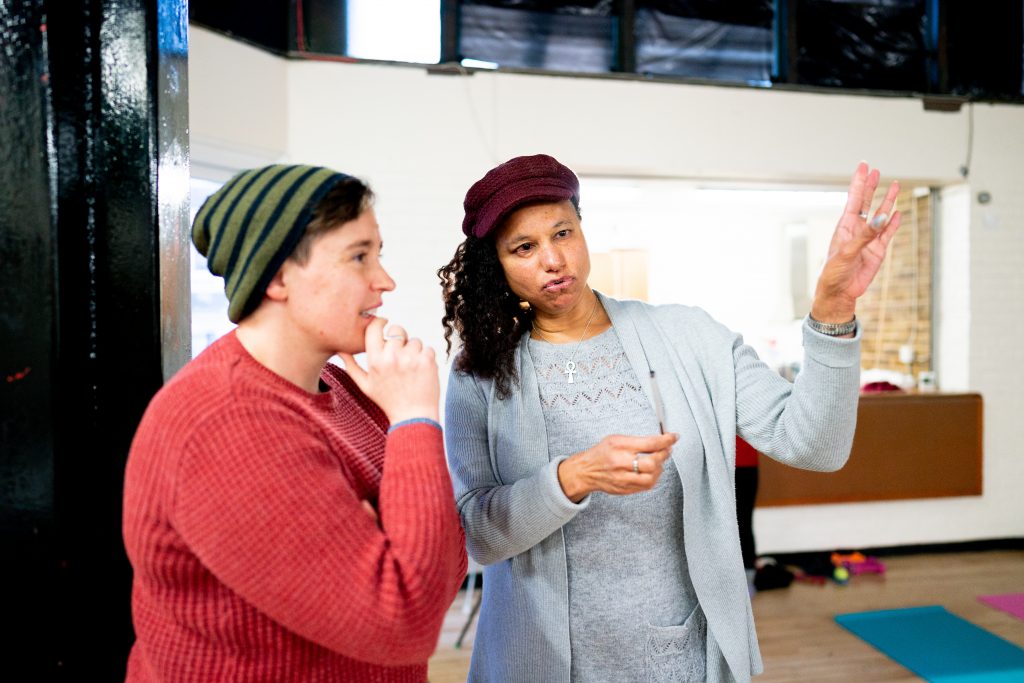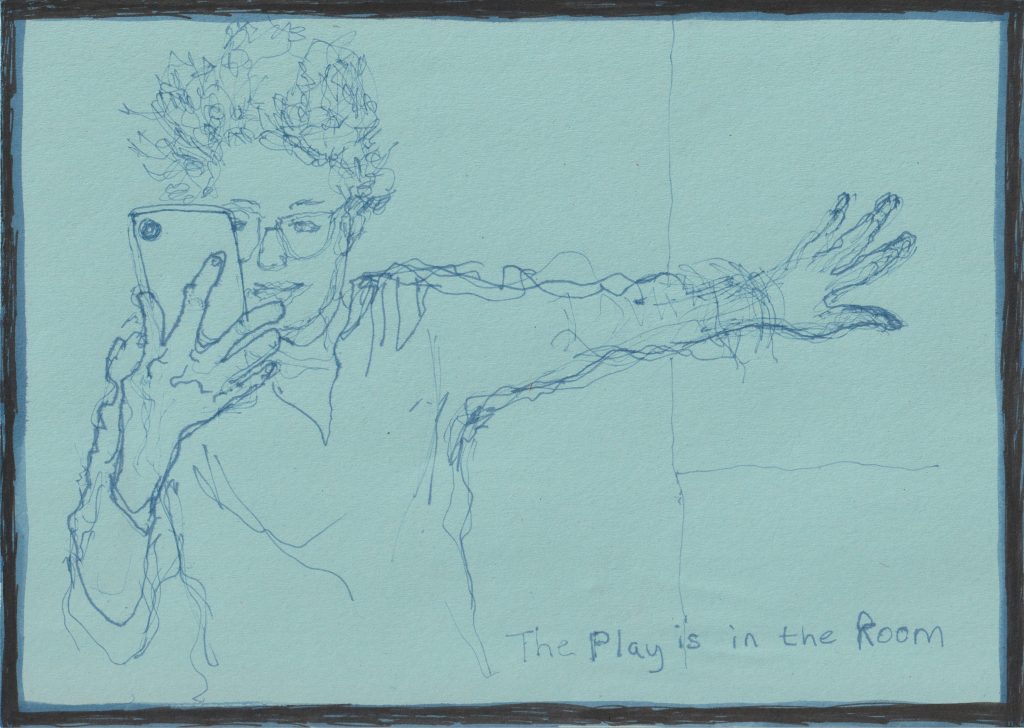 Image Description: "The Play is in the Room" Blue ink drawing of a Director, a white woman at home on Zoom. She stands up, one arm outstretched. With the other she holds a large smart phone up to her eyes as she reads out from a play.
Image Credit: Sally Booth
Pathways Directors
Initial workshops took place in November 2019, and this three-day introduction to the skills and career path of a director was followed by a bespoke course in 2020/21 – extended due to Covid-19.
15 Pathways Directors completed this rich and vibrant course, which included: introductory session, masterclasses, mentoring, shadowing and a Showcase at the Cockpit Theatre in January 2022.
Masterclasses: Masterclass leads included: Chloe Clarke from Elbow Room Theatre Company, Jatinder Verma and Claudia Mayer from Jatinder Verma Productions, Matthew Xia from Actors Touring Company, Grace Smart freelance designer, Justin Audibert and Rachel Bagshaw from Unicorn Theatre, She Goat and Tim Etchells.
Each Pathways Director worked with a Mentor for six sessions – and specifically planning for and reflecting on their directing work for the Showcase. Our Pathways Director Mentors were: Hannah Quigley, Carole Pluckrose, Alyson Woodhouse, Claudia Mayer, Angela Ekaette, Krista Viori and Tom Latter.
Shadowing: Pathways Directors shadowed a working director within a tailor-made shadowing opportunity. Thanks to all host companies which included: The Globe, Commonwealth Theatre, Actors Touring Company, Royal Court, Young Vic, Camden People's Theatre and Curious Directive.
Pathways Directors Showcase: 10 Pathways Directors presented a five minute duologue on stage – working with professional actors.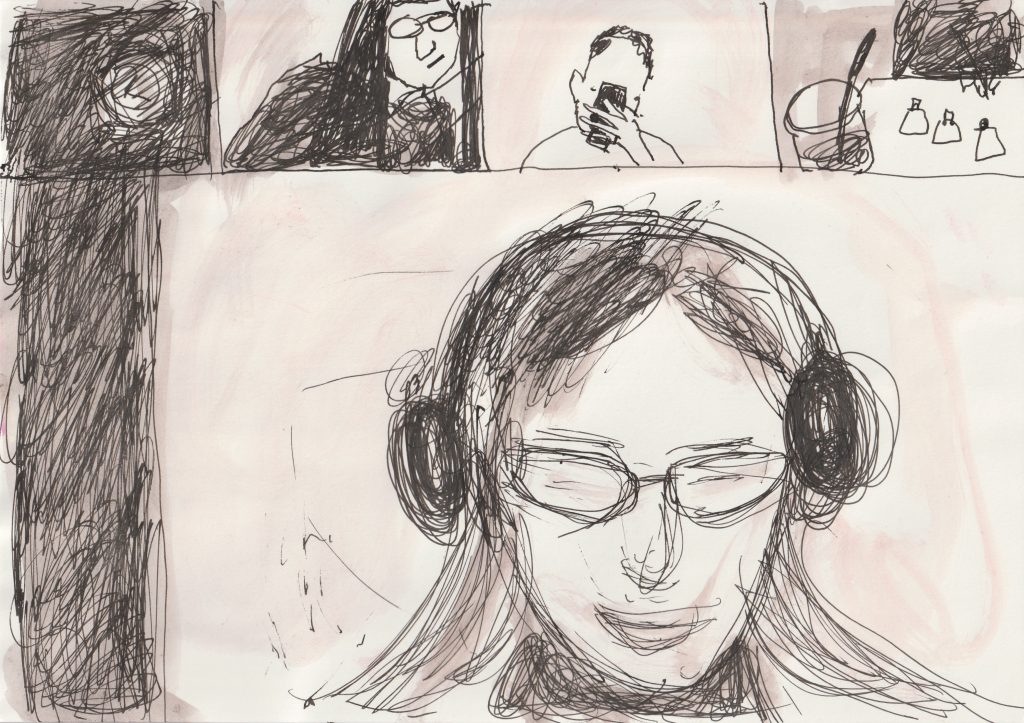 Image Credit: Sally Booth 
Pathways Directors Showcase Programme
Friday 28th January 2022, 7pm
The Cockpit, Gateforth St, London NW8 8EH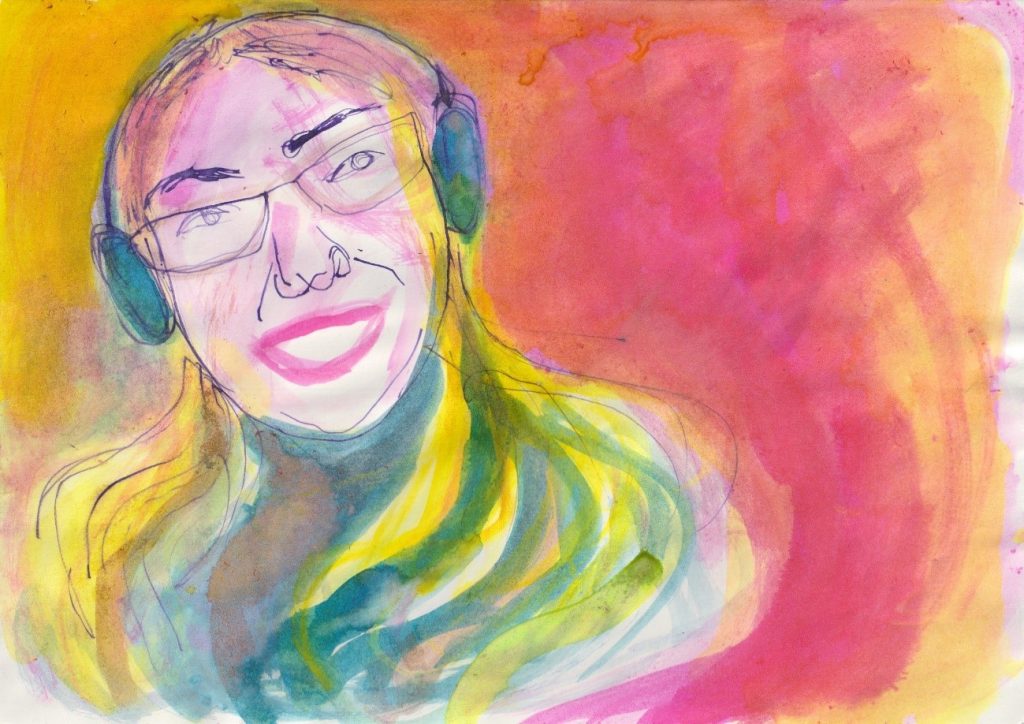 Image description: A Director is laughing out loud, her face has a wide smile. She has glasses and large headphones, and long fair hair drapes over her shoulders. The colours are bright and cheery pinks and yellows.
Image Credit: Sally Booth
About
Pathways is Extant's pioneering five-year-long programme that aims to influence, embed and improve greater awareness of and accessibility for blind and visually impaired practitioners across the theatre industry.  
 
Since 2018, we have delivered training programmes for visually impaired and blind practitioners to support them in making a more sustainable professional career in the arts. In Year 1 in 2018-2019 we focused on acting, in Year 2 (2019-22, extended due to Covid) we focused on directing, while writers came on stream in Year 3 (2021-22). In Year 4 (2022-23), we will welcome our Backstage programme. 
 
The Directors showcase is a culmination of work from visually impaired and blind directors who have been training and developing their craft for the past two years, inspired by both their mentors and the directors they've learned from. 
Programme
Comperes: Pathways Actor/Director Anthony Gough and Pathways Actor Dougie Walker
Showcase BSL Interpreter: Colette Burgess  
Actors: Terry James, Heather Gilmore
Script extract: 'Amy's View' by David Hare
Pathways Director: Paula Connolly
Actors: Lowri Lewis, Sophie Arram (via Sarah Mowat)
Script extract: 'My Mother Said I Never Should (Act 1 Scene 2)' by Charlotte Keatley
Pathways Director: Tam Gilbert
Actors: Cindy-Jane Armbruster, Michelle Felix
Script extract: 'Winners' by Lowri Jenkins
Pathways Director: Tafsila Khan
Actors: Lowri Lewis, Dougie Walker
Script extract: 'Tuesdays with Morrie' by Mitch Albom
Pathways Director: Steven George
Actors: Louis Kissaun, John Sears
BSL Interpreters: Bernadette Travers, Samuel Rojas, Steve Hudson, Caroline Richardson, Louise Mitcham, Vicky Pannell
Script extract: 'Midnight Movie' by Eve Leigh
Pathways Director: Amy Bethan Evans
Actors: Charlotte Eyres, Dougie Walker
Interval
Script extract: 'Punts' by Sarah Page
Pathways Director: Karina Jones
Actors: Luke Fox, Michelle Felix
Access Support: Kathryn Bond (Access All Areas)
Script extract: 'Le Pere (The Father)' by Florian Zeller
Pathways Director: Anthony Gough
Actors: Margaret Tulley, John Sears
Script extract: 'Below The Surface' by Lily An
Pathways Director: Lily An
Actors: Bonnie Adair, Nell Hardy
Script extract: 'Martha Josie and the Chinese Elvis' by Charlotte Jones
Pathways Director: Zara Jayne
Actors: Margaret Tulley, Charlotte Eyres
Script extract: 'Yesterday' by Ada Eravama
Pathways Director: Ada Eravama
Actors: Adam Bone, Nell Hardy
Running time: 133 minutes without interval
There will be a 20 minute interval

Showcase Creative Team
Showcase Director/Programme Manager: Caroline Jeyaratnam-Joyner
Stage Manager: Ruth Burgon
Technician: James Cabot
Backstage Crew: Jeremiah Johnson
Access Workers: Andrew Baguley, Chikodi Nwaiwu, Grace Joseph, Dot Alma
Understudies: Simon De Deney, Elizabeth Schenk
Filmmaker: Primo Digital Video Productions
Extant Team
Artistic Director: Maria Oshodi
General Manager: Rhianne Rowson
Administrator: Amelia Zhou