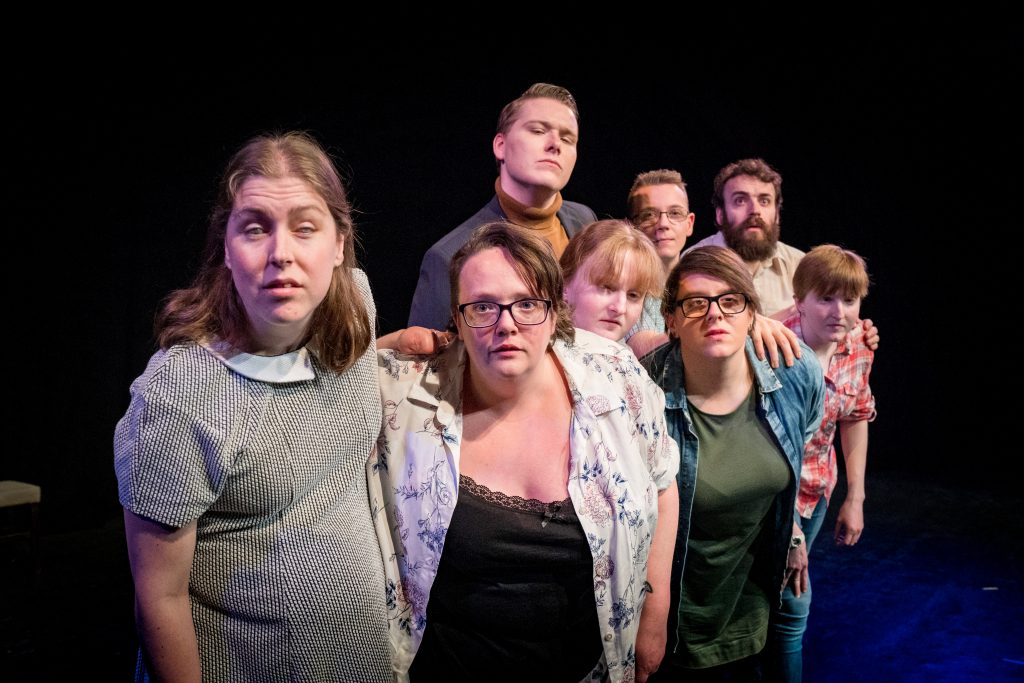 Pathways is Extant's pioneering four-year-long programme that aims to influence, embed and improve greater awareness of and accessibility for blind and visually impaired practitioners across the theatre industry. We aim to do this through the following three approaches:
Training programmes for approximately 10 visually impaired people each year. Supporting visually impaired and blind practitioners towards making a more sustainable professional career in the arts. In Year 1 in 2018 – 2019 we focused on acting and in Year 2, 2019 – 2020 we are focusing on directing, with an aim to focus on writers in year 3.

Visual Impairment awareness training for Theatre Practitioners/Companies, known as V.I. TAP. This aims to offer inclusive ideas for workshop/rehearsal delivery when working with visually impaired artists.

Roundtable discussions for professionals within the theatre industry to discuss questions and perceived challenges to accessibility for visually impaired artists with a view to stimulate sector improvement.
October 2021 Pathways Update
Mentoring is now well underway for our Pathways Directors and Writers. We are excited to see supportive and sustainable professional relationships forming.
RoughHewn continue to run tailor-made masterclasses on Zoom for our Pathways Writer mentors. Session two went down well: exploring our support systems within both the dramaturgical process and pastoral care – when working with mentees.  
Shadowing placements continue for our Pathways Directors, where they are part of the rehearsal process alongside professional directors. Thanks to all our host companies so far including recent hosts: Camden People's Theatre, Curious Directive, Actors Touring Company, Commonwealth Theatre and The Globe. Pathways Directors are loving this opportunity. One Pathways Director mentioned how it had inspired him to apply for a director's award programme; another how she felt enriched, and enjoyed how the actors got in to audio description in the rehearsal room.
We still have a few more shadowing placements to organise before the end of the year, so please get in touch if you would like to host a placement [email protected].
Stage Management masterclass with Annette Waldie on Zoom. Our Pathways Directors explored stage management; and the relationship between stage manager and the director. There was an opportunity for Pathways Directors to apply the work to their upcoming Showcase planning.
Pathways Directors Showcase. This is just around the corner-in late January 2022, and will take place in a London theatre (Covid-19 government guidelines permitting). This event will offer the limelight to showcase what our Pathways Directors have been up to over the past two years-watch this space!
June 2021 Pathways Update
Pathways Directors
Thirteen of our blind and visually impaired Pathways Directors took part in our June Directing Lab on Zoom. Each Pathways Director worked with two professional actors in a breakout room directing a duologue or devised piece ready to share in the plenary. Our guest director Carole Pluckrose has followed up with one-to-one feedback for each Pathways Director. This Lab proved to be a brilliant and inspiring learning curve!
We continue to place each Pathways Director with a rehearsal period to shadow a professional director. Placements with ALRA North and Camden People's Theatre are underway. We are also setting them up with Actors Touring Company, Commonwealth Theatre and The Globe, to name a few. We are still on the lookout for shadowing opportunities – please get in touch here if interested.
Pathways Writers
Our fifteen blind and visually impaired Pathways Writers are soaking up our rich mix of masterclasses. To date we have taken inspiration from blind and visually impaired writers Annalisa D'Innella, Daisy Higman, Eve Leigh and Mandy Redvers-Rowe.
We ran VI TAP training for our sighted masterclass and Directing Lab leads, and were happy that session two was face to face at Brixton Community Base. This was our first foray in to the real world, and it went really well. There was some fantastic engagement, and commitment to support inclusivity within the creative space. It was also an excellent opportunity to network face-to-face again.
Last week, Darren Rapier led our masterclass on writing for radio and TV, and this week we welcome playwright Athena Stevens to lead the Zoom room.
VI TAP training
We recently ran VI TAP training for Camden People's Theatre. There was some great discussion, and try-out sessions, with a fabulous range of freelance artists attending.
March 2021 Pathways Update
It's been a lively time for Pathways! On 1 March, we hosted our Pathways Writers Launch and Round Table on Access to Scripts for blind and visually impaired artists on Zoom.
We welcomed our 18 Pathways Writers who will be with us until June 2022, working on the craft of writing for performance. This programme will include: masterclasses, mentoring, dramaturgical support via our mentors and working towards a showcase in Spring 2022. At the launch, three guest writers presented on themes: 'Top Tips for Writing for Performance', 'Working with Venues as a Disabled Artist' and 'Working as a Visually Impaired Writer – Pitfalls and Triumphs'.
The Round Table panel was made up of a publisher, a drama school, a visually impaired artist, and two venues. The issues on access to scripts, and the need to create accessible scripts at source were discussed. Extant will be taking this work forward in partnership with a working partner. Do please get in touch if you would like to be a part of this.
Our VI TAP training for practitioners continues. We have loved working with London improv groups, and Camden People's Theatre in recent months.
Looking ahead to Spring 2021, we are busy planning for our Pathways Writers masterclass series from April – June and our next Pathways Directors' Lab in June.
We continue to look out for a shadowing opportunity for each of our Pathways Directors. These will be in the north west, south west, south coast, Wales, London and/or on Zoom. If you are a theatre company and/or freelance director planning a rehearsal period anytime between now and September 2021 and would have the capacity to host a Pathways Director to observe, please email [email protected].
December 2020 Pathways Update
Since May, our sixteen blind and visually impaired Pathways Directors have taken part in ten masterclasses over Zoom.
These have been led by a range of guest directors. We have loved working with companies such as Jatinder Verma Productions, Actors Touring Company, She Goat and Unicorn Theatre. Our Pathways Directors are keeping journals in order to absorb and reflect upon this masterclass series 'Building Confidence in Directing'. Next, each Pathways Director will engage with a shadowing opportunity alongside a working director. If you know of any rehearsal periods coming up (in the physical or digital space), please email [email protected].
We are also in the process of recruiting fifteen blind and visually impaired writers for performance for our next programme Pathways Writers. More to follow!
We have started delivering our visual impairment awareness training (VI TAP) for theatre practitioners to London improvisation groups and Theatre Clwyd. More venues will be coming on board in the new year.
Call-out: Shadowing opportunities for directors
Extant are looking for shadowing opportunities for their Pathways Directors.
If you are a theatre company or venue who would be able to accommodate a Pathways Director, for a period of time between October 2020 and March 2021 (details to suit both sides will be negotiated): please email [email protected] – to start the conversation.
For more information visit this page.