The first project to fuse Forum Theatre and visual impairment, involving research, devising, performance and presentations.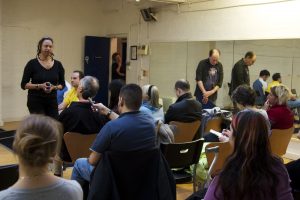 Take four visually impaired actors, let them loose to research among some groups of visually impaired Londoners, then lock them away in a rehearsal studio for two weeks with a director and what do you get?
Eye For Um Eye!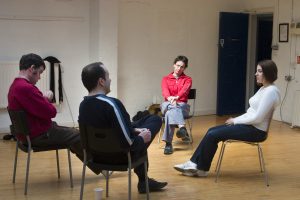 A Forum Theatre piece, based on gathered research, reflecting situations conflicts and dilemmas facing visually impaired people.
Project funded by Trust for London.
Forum Theatre is a technique generally credited to Augusto Boal, a Brazilian theatre-maker. From the 1970s onwwards, Boal developed the technique as a form of theatre that involved peasant communities in overcoming state and landlord oppression in rural Brazil. His plays portrayed people failing to overcome those oppressions and he would ask audience members up on stage to try to alter the play and reverse the outcome. From this simple beginning, Forum Theatre is now developing into a worldwide movement that uses Boal's technique with very many different groups of excluded people, helping them explore and resolve the difficulties they face.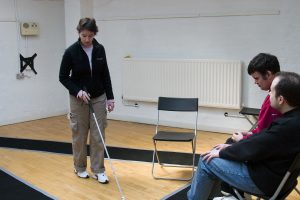 On Friday 16 March 2007at the Oval House Theatre studio downstairs and on Wednesday 21 March 2007 at the RNIB HQ in Kings Cross Extant presented two Forum Theatre gigs for visually impaired and sighted audiences.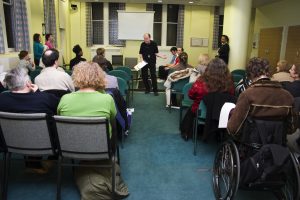 "Eye For Um Eye" used Forum Theatre and the invited audience were encouraged and facilitated to stop the action in the performances, make suggestions for changes and even come up and take part in the dramas themselves.
This was a lively and challenging experience for the audience and actors aiming to allow open and objective debate between audience and actors about issues relevant to visually impaired people.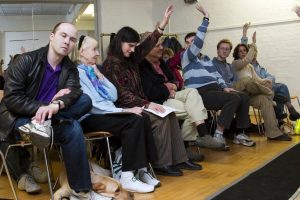 "I explored myself a lot more on this project with regards to my blindness. I found myself thinking about things I haven't thought about before with regards to handling certain situations and also learning from the other visually impaired actors around me." Actor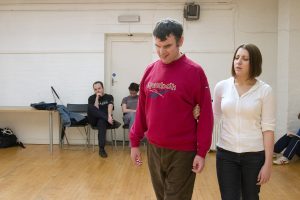 "It was an extraordinarily enlightening, instructive experience for me to work with a blind and visually impaired cast on this project. As a disabled person myself, but as one with a physical disability of an entirely different order, it gave me insights into cross-experiential similarities and differences." Director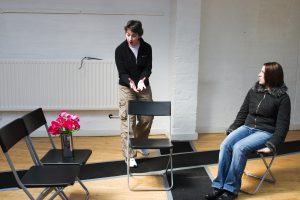 "Absolutely brilliant show! Had so much fun on stage with the actors, though not sure if I entirely got it right!" Audience member
"Never experienced forum before and thought it was fascinating how the story could be taken in so many different ways by the audience." Audience member
"Made me want to give up film making and take up theatre instead!" Audience member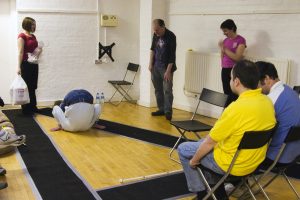 " I have learned certainly how to approach oppressive situations, in ways I may not have thought about before the Project. It has also taught me that a lot of oppression can actually be caused by yourself which hadn't even occurred to me." Actor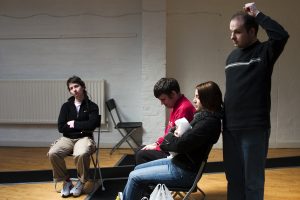 "I believe that I am one of the few European practitioners that have come to FT from the Frierean side of the family rather than the theatre side. I have learned a great deal on this project about importing Freirean methods into practices that have different, conflicting origins." Director
For more information visit http://www.theatreoftheoppressed.org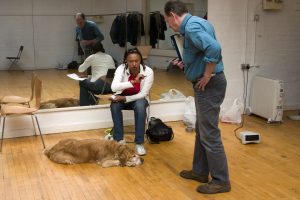 About the Company
Richard Katona – Director
Richard's route into theatre came through the field of youth homelessness work. He had previously done some drama and dance at the then Middlesex Poly in the 1980s. He later became a frontline youth worker in a night shelter for long-term street homeless young people. Those two strands were reunited when Richard became involved in the work of Cardboard Citizens and Streets Alive theatre companies, both of which specialise in Forum Theatre work with homeless people. Richard believes that theatre does not belong to showbiz-it belongs to everyone. He believes that those who feel at odds with the world they live in can find a voice through theatre.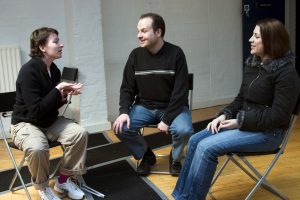 Sarah Caltieri – Actor
Sarah debuted at the age of fourteen at West Yorkshire Playhouse Leeds where she was later to star as Angel in the premier of the stage musical Freedom Sings. Her first professional role after being registered blind at the age of twenty three was Lucy Brown in Theatre Workshop's touring production The Threepenny Opera. Falling instantly in love with Edinburgh prompted her speedy return – first to perform in a comedy show at the Fringe Festival and then to take part in another Theatre Workshop production. Sarah recently played the role of Meisie in the UK premiere of Kobus Moolman's play Full Circle at Oval House Theatre London.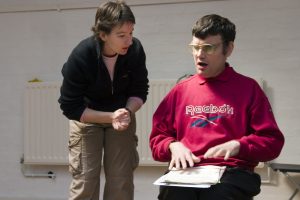 Andrew Hodgson – Actor
Trained on the first Graeae 'Missing Piece' Course. Highlights of career have included: Bert the telephone engineer in 'The Answerphone', an opera by Danny and Katie Kingshill; Arkel and chorus part in 'Pelleas and Melisande' (Maeterlinck) ConVivio Theatre Company; the Doctor, Sergeant, Blind Grandmother and Journeyman in 'Woyzeck' with Graeae Theatre Company; Master Garnish and Sir Lionel Freevill in 'The Dutch Courtesan' (Troupe Theatre Company and Commyns Car) and a performance in 'All Those People I have Met' (A2 Theatre Company). He is also a trained and experienced singer with a number of recitals and oratorio performances to his credit. He has also recently branched out into role play work with Partners with You and cabaret performances with Extant.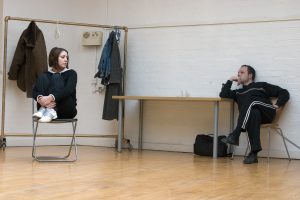 Christine Laurence – Actor
Over the past two years I have pursued the career which has always interested me the most. Here are some of what I've been up to:
2005/06 Graeae Theatre Company – Missing Piece 5. One year course in performing arts. Graeae/ALRA, 6 week Acting for Radio course.
2006 Performed 'Fuddy Meers' by David Lindsay-Abaire 3 June at the Cochrane Theatre, London.
'Screen Acting for Camera' two week TV course – August 14th/25th host by Graeae.
'Acting Styles' two day work shop 30th Sep 1st Oct. by Graeae.
16th November 2006. I performed as 'Sheila': moth/wife. At Jackson's Lane Theatre in a new play 'Bye baby bunting' by Penny Pepper. This was a performed stage reading.
Extant Company – 5-16 March 07. Forum Theatre.
Partners With You Ltd – Forum Theatre with the RNIB.
I am a member of the New Venture Theatre, Brighton. Attending acting classes. My other interest are Drumming and Tap Dance.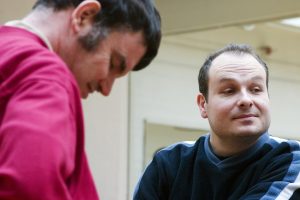 Liam O'Carroll – Actor
Liam studied Drama and English at Roehampton University. Since graduating in 1993, he has worked mostly in television and radio, credits for which include Father Ted, Casualty, Comedy Lab and Desmonds. He is best known for playing blind teacher Eddie Dare in CITV's 24 Seven. In 2005 he took part in the Mastermind Doctor Who Special. He also writes and performs his own comedy material and has shared the bill with some of Britain's top acts such as Mark Thomas and Alan Davies. His sketches have been performed at such venues as the Swan Theatre, Stratford upon Avon, the Café Royal, London and the major party conferences in Bournemouth and Brighton. His one-man show Distress Call was performed in Zagreb at the first international festival of theatre of the visually-impaired back in 1999. He can currently be seen in the BBC's TV promo for their audio description service.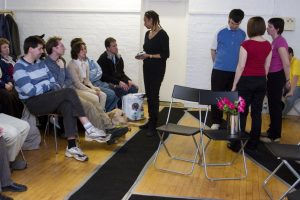 Photographs by Andrea Testoni