Dance Stage was a program of dance classes open to all visually impaired adults at any level of experience or ability.
Throughout the autumn of 2010 Extant ran sessions in Contemporary, Flamenco, Tap and Samba. Participants were introduced to the fundamentals of the dance styles and learned fun routines.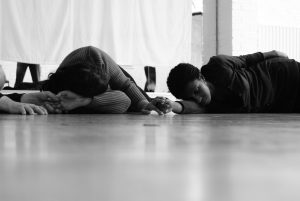 The sessions were open to visually impaired adults at all levels of dance experience and led by visually impaired and sighted professional dance tutors. At the end of the course, participants had the opportunity to perform for an audience and share what they learned.
In 2014, Extant launched a follow-up series of dance workshops for visually impaired people in Ballroom, Zumba and African dance. Find out more here.
If you are interested in attending dance and movement classes outside of Extant, visit Illuminate Freedom, a not-for-profit organisation delivering a range of dance, health and wellbeing projects across the UK for visually impaired people.
Participant quotes:
"An enlightening and energising experience, I like to learn through experience and this gave me a good understanding of what contemporary dance is all about."
"I've had so much fun, the teachers have made it easy to take part by describing what they mean, rather than performing the move and expecting me to follow."
"I've had a fun time learning new dance skills in an environment where access has never been an issue. I am definitely going to pursue future dance classes it's a great way to keep fit."
"For me these dance sessions were invigorating and energising. They provided me with a taste of different dance types and revived my interest in dance – Extant's initiative is greatly appreciated."
Tutors:
Penny Smith (Tap): Penny Smith is founder and director of the only British tap dance association for adults: 'Associated Tap Dancers.' She holds a Masters degree in Learning and Development and teaches dance and fitness to both disabled and non-disabled people.
Janee Hall (Contemporary): Janee Hall is a visually impaired performer and workshop leader with over 15 years' experience of community dance work. She currently works in education as well as the arts and is a self confessed chocoholic.
Loreto Caceres Espinosa (Samba): Loreto was trained in the Egad Fitness Centre Santiago-Chile, and also studied Dance and Fitness in the Karen Connolly Ballet and Fitness school. For two years she danced Samba in Brazilian Carnivals throughout Chile, and for the last six years has held popular dance and fitness classes in Santiago-Chile as well as the UK, where she now teaches Samba, Axe Brazil, Lambada, Merengue, Bachata, Cahachacha and Latin Jazz.
Aidan Treays (Flamenco): Aidan worked with Raphael Aguillars' flamenco Dance Company in Madrid and toured France at the beginning of his dance career. He is now a movement teacher for actors as well as choreographing for theatre.