A series of accessible dance workshops for visually impaired people funded by the Greater London Fund for the Blind.
In January and February 2014 Extant ran a series of dance workshops for visually impaired people in a wide variety of styles.

A total of 51 participants booked with Ballroom, Zumba and African dance workshops taking place at TripSpace Studios (East London); Contemporary and Street Dance sessions took place at Sadlers Wells.
Each dance session lasted 3 hours, participants learned new dance steps and did movement work to explore moving confidently across the stage.
This project attracted all ages of people interested in dance and in getting fit. Our youngest participant was 17 years old and our oldest was 90!
Our experienced tutors catered for a wide range of abilities and the team included disabled and visually impaired dance teachers.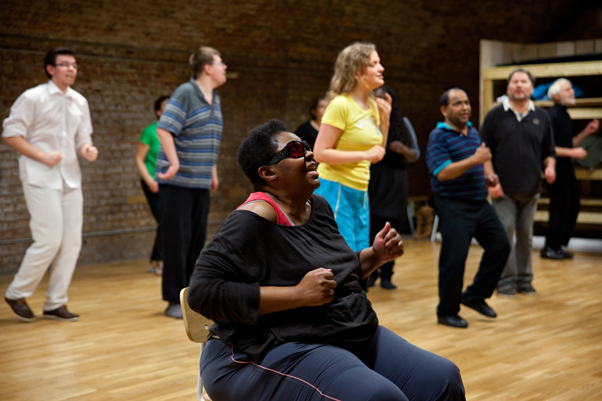 Participant's comments
I wasn't sure what to expect as there are few classes for visually impaired people. However I hoped to develop my technique, as I have had previous experience in dance.
I hoped for a chance to develop a bit of self-expression, in an environment where I could feel comfortable exploring my own physicality. And without fear of injury (to others as well as myself) or embarrassment. Two things that have, up till now, held me back from approaching dance as an artistic medium.
Feedback after the project
It worked really well having access workers to dance with giving details of which feet should be doing what when!
It was unbelievable – we were taught to be aware of our bodies. It gave me confidence and reassurance.
It was fantastic. I haven't been able to run but can now; I can lift up my foot properly.
The experiential work helped me gain greater control of my body. The instructor had a good approach to working with visually impaired people. I feel there is a need for more practitioners to have a greater understanding of the needs of visually impaired people.
The freedom I found in moving confidently through the space gave me some insight into how confined my personal space is in most social situations. Letting that go, akin to letting one's guard down, was very therapeutic. In that sense what this workshop gave me, and I believe others in the group was remarkable and unforeseen.
All of the participants who responded to our evaluation survey thought their dance skills had improved. They also said that they had gained confidence and improved their fitness by attending the sessions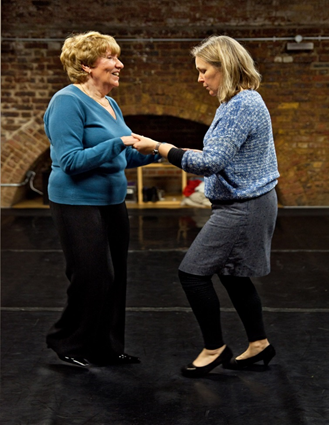 We were delighted that RNIB's Insight Radio came along to do a feature on the dance project. Insight interviewed some of the dance participants, the link to their podcast is available on this link.
Impact on participants
'Different participants seemed to get different benefits, depending on their style of working, their ability to learn, and openness. Many reported a much greater ease in everyday navigation and movement. Some found the course profoundly life changing, in that they could find their way in their home without anxiety and worry. Another found she could get up off the floor unassisted which gave her a huge confidence boost.' Aidan Treays, Contemporary Dance Tutor
'We enabled a group of people, some who had never been able to experience the ultimate pleasure of moving their bodies in a structured way to music, to completely embrace, develop and grow confidence in their ability to simply move around a space unhindered. The project bought joy, freedom and friendship for the participants and enabled many of them to understand what dance actually is and how it feels. It helped the participants understand their bodies on a new level and built physical strength and endurance for many of them. It also enabled members of the audience to gain a new understanding and appreciation of the capabilities of people with a visual impairment.' Louise Dickson, Street Dance Tutor
It is clear from the tutors' feedback that they also gained valuable experience in participating in this project.
'It has impacted my understanding of posture and movement and how it relates to visually impaired people. I have learnt specific ways to communicate and engage with the body that leads to enhanced self-awareness in space. I learnt that visual impairment affects how the body orients itself in space and specific ways to enable more freedom of movement and dynamic orientation for VI people'. Aidan Treays, Contemporary Dance Tutor
'Who knew I had a knack for Audio Description! I was deeply shocked by the response from not only the audience but also from the participants at my attempt to audio describe. Once the nerves went, I thoroughly enjoyed the role of Audio Describer and it is now something I am considering becoming qualified in.' Louise Dickson, Street Dance Tutor
The Final Performance
A sharing event took place on Saturday 22 February 2014.
'We weren't sure how participants would feel about doing a performance at the end of the week long course but they all rose to the challenge and we had a fantastic 'Sharing' on the last Saturday. It was very moving and uplifting and the best bit was when the participants got members of the audience up to dance with them both sighted and visually impaired. They really owned the floor!' Annelene Hursthouse, Project Co-ordinator
Next steps
Although this project has come to an end, Extant are convinced of the need and benefit of this type of project to enable blind and partially sighted people to enjoy the fitness, wellbeing and confidence that taking part in dance can bring.
You can find a film about the project in our Videos section.
Many thanks to the Greater London Fund for the Blind for helping to make this project possible. We had a wonderful group of participants who were willing to engage, despite initial nervousness and fear in some cases; and also a huge thanks to the skill of the tutors, volunteers and support workers who responded so adeptly and with such enthusiasm to this opportunity.
Delivery team
Aidan Treays, Contemporary Dance
Aidan teaches movement to actors at Drama Studio London. He is also a freelance choreographer for theatre, a Dance Artist, and is a graduate in Rolfing-Structural Integration.
Louise Dickson, Street Dance
Louise currently teaches dance at Circus Space, London and also teaches on various creative arts projects across the UK in a variety of dance styles. She is a dancer and teacher who suffers from an invisible disability called Fibromyalgia.
Odette Batterel, Ballroom Dance
Odette grew up in a village in France where she enjoyed taking part in many different dance fetes. She studied ballet in Austria and also learned wide-range of ballroom dances. She attained her teaching certificate from Westminster Adult Education College and she has since taught many different dance styles. Odette is partially sighted and has extensive experience of teaching blind and partially sighted people.
Chrissie Kiyou, Zumba and African Dance
Chrissie is a dancer, choreographer and teacher of several dance styles. She has been teaching and choreographing in the community dance sector for over 20 years, working in England and abroad.