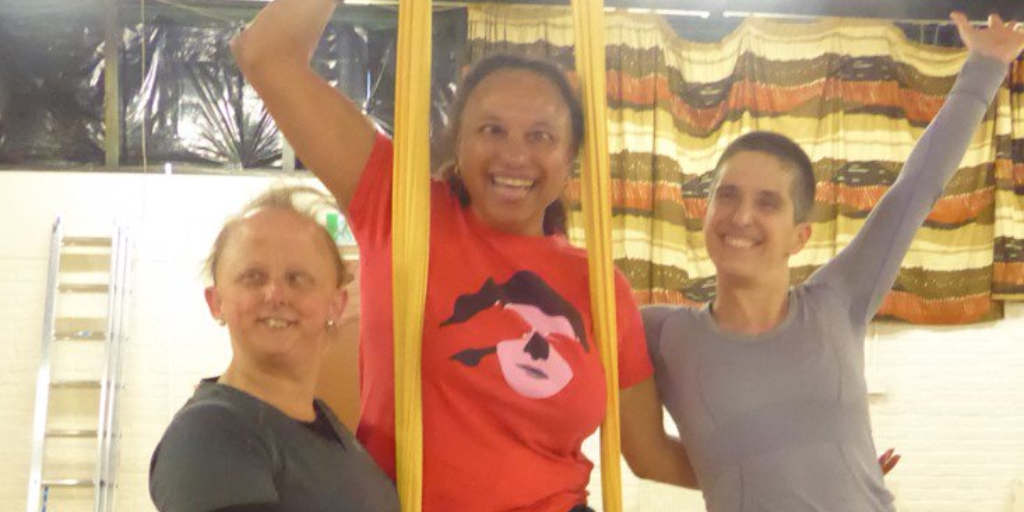 Rich sounds, lots of feet, film and projection, audio description, dialogue, spatialised sound, action, mischievous guide dog and gripping aerial.
Flight Paths rehearsals are well underway and the beginnings of a fantastic production have developed. Combining tradition and modernity four performers (Amelia Cavallo, Sarah Houbolt, Victoria Oruwari and Takashi Kikuchi) navigate the paths of migrant blind and partially sighted artists, weaving together personal stories of blind artists from Japan, Nigeria, the USA and Australia as they forge their careers as aerialists, viola player and soprano.
In the beginning stages of rehearsals, we watched Sarah and Amelia create a vocabulary of aerial movements with the help of Movement director Vicki Amedume. The two female performers worked tirelessly, pushing their minds and bodies to combine a series of stunning drops and movements.
Glen Neath, Maria Oshodi and Kumiko Mendl have further developed the Flight Paths script endeavouring to weave music, spatialised sound, aerial, film and dialogue into the structure of the performance. Bringing together the traditional teachings of the Goze, Glen has been progressively making adaptations throughout the four week rehearsal period to successfully combine verbatim theatre and technical elements to tell four stories of migration. Sound designer Thor and Surround-sound technologist Tarim have been experimenting with spatialised sound over the course of the four weeks exploring new ways of combining audio description and aerial movement. Flight Paths is on track to being innovative on both accessible and artistic levels.