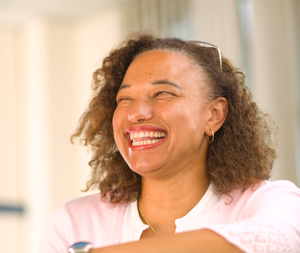 The Cultural Leadership Programme's list of 'Women to Watch'
Fifty of the most ambitious and talented women in the UK cultural and creative industries
Maria Oshodi, Artistic Director of Extant, nominated and selected for the 'Women To Watch' list.
The 2010 list will provide a snapshot of the most talented women leaders in the cultural and creative sector, who are making a significant contribution to industries including design, libraries, literature, museums, heritage, music, performing and visual arts, the historic environment and other creative businesses in the UK.
Not only is she someone to watch, she is someone who should be applauded.
'Women to Watch':
Recognises the incredible achievements of women sector-wide, who will undoubtedly make a difference to the rich cultural life of the UK over the next few years.
Celebrates the rich diversity of women, and highlights the talent from a variety of cultural and professional backgrounds; from independent consultants to business directors and those working within some of our leading organisations.
Has been established to address the lack of women in positions of senior leadership in the cultural and creative industries, by inspiring and encouraging future generations of women to rise to the top.
CLP received nearly 200 nominations, from across the UK. After much deliberation these have been whittled down by the high-profile judging panel, which is made up of figures from the cultural and creative industries, the media and popular culture.
The achievements of the 50 women will be celebrated at an evening reception on 10 March 2010.
Jenni Murray OBE, Chair of the high-profile judging panel, said: "There are still nowhere near enough women in positions of power and influence whether it's in politics, banking or – as we are concerned with here – the cultural sector.
"For far too long, men have had greater access to the majority of the highest level appointments and women have been outnumbered by men in these senior roles. We need to do everything possible to enable and encourage the next generation of women and ensure they have the opportunity to reach the top if they have the talent and ambition."
More information on Women to Watch can be found at www.culturalleadership.org.uk/w2w
The Women to Watch judging panel is made up of:
Jenni Murray OBE (Chair), Broadcaster and Author
Dame Liz Forgan, Chair of Arts Council England
Jenny Sealey, Artistic Director of disabled-led theatre company Graeae
Kwame Kwei-Armah, Actor, playwright and broadcaster
Sarah Weir, Head of Arts and Cultural Strategy for the Olympic Delivery Authority
Wayne McGregor, Multi award-winning dancer and choreographer
The Women in Leadership in the Creative and Cultural Sector (2009) report can be downloaded at www.culturalleadership.org.uk/publications-and-research/
Images are available on request.
The CLP was launched in 2006 with a budget of £12m. It is delivered by a partnership of Arts Council England, Museum Libraries and Archive Partnership, and Creative and Cultural Skills. The CLP was awarded a further £10m to invest in cultural leadership development between 2008 and 2011. Its Board comprises: David Kershaw, M&C Saatchi (Chair); Althea Efunshile, Arts Council England; Michael Day, Historical Royal Palaces; Shreela Ghosh, Freeword; Sian Prime, Goldsmiths; Sue Hoyle, Clore Leadership Programme; Sue Wilkinson, Musuems Libraries and Archives Council; Felicity Woolf, Creative and Cultural Skills; Vikki Heywood, RSC; and Virginia Tandy, Manchester City Council.