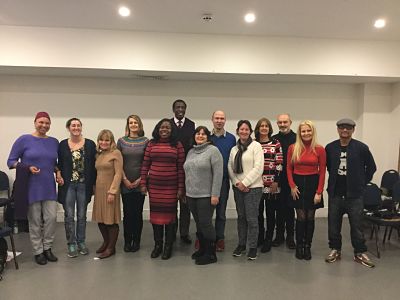 In February 2016, Extant trainers Tim Gebbels and Steph Cutler delivered a three day intensive programme to a group of 12 emerging visually impaired professionals, some familiar and others new to the Company. They participated in learning how to deliver awareness training in a fun, interactive and creative way. This has already resulted in two participants going on to support experienced trainer Tim Gebbels to deliver sessions at two high profile venues in the UK. Extant hopes that there will be further training and support opportunities to continue the success of the programme in the near future.
In evaluating the success of this training, one participant wrote: 'Both Tim and Steph were very professional in their approach and their delivery was clean and clear. They made good examples exhibiting skills necessary for us to deliver this training. It was interesting, fun and enjoyable and it was great to meet and make more friends.'
On completion of the course, some participants were able to start assist with delivery of visual impairment awareness training for venues and other organisations using our unique methodology.
This project was generously supported by the Ulverscroft Foundation.