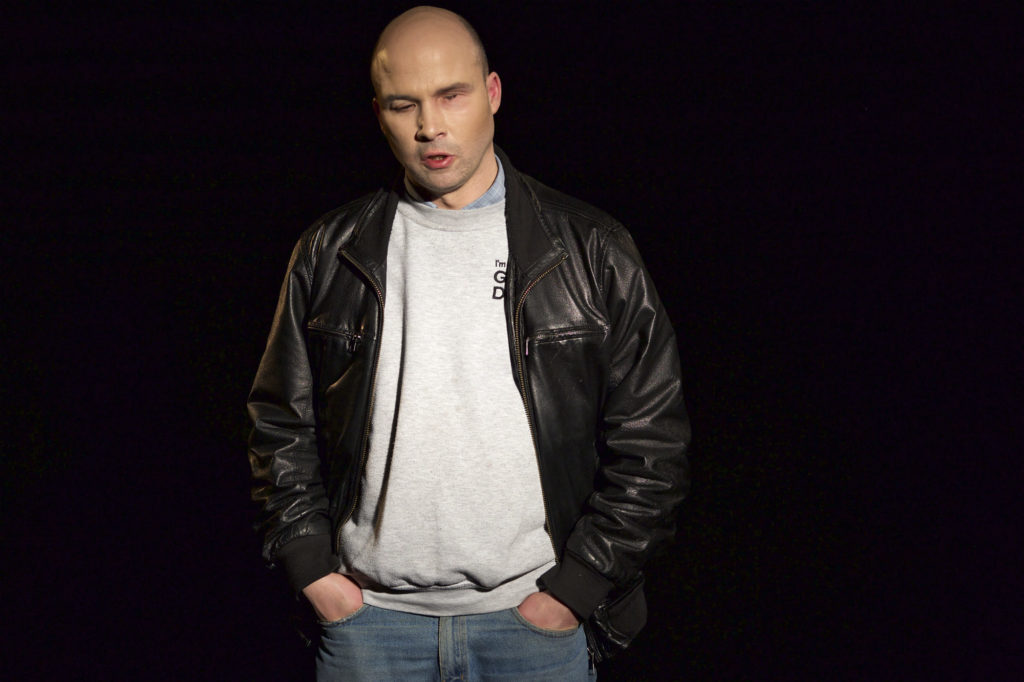 In February 2017, Extant lost a dear friend and long-time collaborator, Tim Gebbels. Tim made a huge contribution to our theatre company since we started 20 years ago, and an even bigger contribution to attitudes towards visually impaired people within the performing arts sector. As a way of remembering Tim and the impact he had on our work, Extant set up The Tim Gebbels Bursary Fund so that other visually impaired artists will be able to follow their dreams.
Between November 2017 and January 2018, we asked friends and supporters of our company, and of Tim himself, to donate to the bursary fund. Thanks to their generosity, we now have a bursary fund of £3,000 with which we used to support UK based visually impaired artists who found themselves at a crossroad in their career and wanted to try something new – develop a new artistic idea, take part in an artistic event or undertake some training – which they couldn't do without financial support.
Case Studies
Claudine Toutoungi
Claudine Toutoungi is a playwright and poet who received funding as part of the Tim Gebbels Bursary fund to attend a week long writer's retreat at the Ty Newydd Writers Centre. The funding gave her the opportunity to work on a new drama with the working title PARTIAL. PARTIAL follows Ada, a partially-sighted character living with a faulty cornea. The reader follows the characters journey through personal and work struggles as she tries to cover up her sight loss. Throughout the drama the reader observes Ada finding a confidante in an App that is used to help guide her through the realities and absurdities of what she is experiencing until the boundaries of the relationship start to blur.
Claudine explains that the Tim Gebbels Bursary Fund inspired her to write more drama, developing her career towards writing for different platforms. Claudine is already working towards publishing a second collection of poetry in the coming year and is endeavouring to explore options of performing.
Tracey Marno
Tracey Marno is Chairman for Bury Society for the Blind, a Trustee at The Met Theatre and a facilitator for Engage2Stage drama Group. She received funding as part of the Tim Gebbels Bursary Fund for training delivered by Extant on how to facilitate and run a drama group for visually Impaired People.
Tracey explains that the bursary helped by giving her the confidence to run the Engage2Stage groups, set up by Extant in 2017, and developed her abilities and knowledge. The group has since performed to paying audiences and participated in a celebration in memory of Victoria Wood. Tracey credits the training with developing her confidence and says that she has "more belief in myself and [am] able to step outside of my own comfort zone." Tracey wants to ensure the longevity of Engage2Stage, learn more and develop her skill set and believes the training she received will contribute greatly to achieving this.
Having always been interested in adopting challenging roles Tracey postulates that she now knows she has the capability and a great desire to share her passion, to benefit others in some creative and enlightening way. Tracey's passion for acting "grows every time I take part in a project, performance or simply just being in a theatre. Being around other actors, directors and vocal/movement coaches gives me a platform to grow and develop. A door is ajar that I need to break through!"
Holly Thomas
Holly Thomas is a dance artist, performer and facilitator with an interest in improvisation, somatics (a field of body work and movement which emphasises internal physical perception and experience) and embodied practices. Holly received funding as part of the Tim Gebbels Bursary for a one-to-one training program with Ben McEwan that was centred on 'Flying Low', a contemporary dance technique created by Venezuelan choreographer David Zambrano.
The bursary enabled Holly to learn and experience "a dance technique that I would not have been able to learn in a traditional contemporary class." She spent time with Ben breaking down movement patterns. This facilitated Holly to learn and find her own patterns which lie within her body and movement style: "As a result I have broadened my movement vocabulary and possibilities within my own practice." Holly said the experience informed her practice as a core artist working on an R&D project with PECo Theatre, where she developed an inclusive immersive theatre piece with a co-devising group of ten visually impaired people.
Holly plans to develop work within Bristol and to continue working collaboratively with PECo Theatre and visually impaired people in the city. She is currently exploring possibilities of developing work that draws upon somatic languages. She is excited about the possibility of making dance work that obstructs sight both in the making and witnessing of dance. She believes developing this type of work will enable her to explore and witness how audio description supports a felt and embodied experience of dance work: "to reimagine audio description within the context of non-narrative dance."
Maggie Tolmie
Maggie Tolmie is a trained actor-musician who has a passion for writing and dance. The Tim Gebbels Bursary helped her with travel expenses to commute to London from Surrey to continue her training.
Due to different council disability benefits, Maggie was not a recipient of a Freedom Pass, which would have allowed her to travel for free or at discounted rates in London. She said the Bursary "took away the worry of the very high travel expenses in London." As a result of getting funding and continuing her training, Maggie is excited to be cast in a role which has been specifically written for her.
Anthony Gough
Anthony Gough is a visually impaired actor and theatre maker who received the Tim Gebbels Bursary to fund a R&D project exploring sensory elements and how they can be applied and make performances more accessible. He is a previous graduate of Extant's Pathways programme.
Through the bursary, Anthony was able to explore how sensory theatre could benefit a group of visually impaired (VI) audience members. The project took around six weeks to plan with a further two weeks of rehearsal. The project offered valuable project management experience; Anthony was responsible for arranging venues, planning budgets, marketing, finding audience members and the creation of the performance and its elements.
Working with a fellow visually impaired actor, Anthony developed a sci-fi performance. With a brand new script based on a story of two aliens who crash land on earth, Anthony was able to embed sensory elements from the very start, using audience interaction as the main tool for sensory engagement. Anthony worked with a VI music producer to create a sense score (a piece of music combining live sounds and other sensory elements.)
The bursary also enabled him to include a pre-show discussion and workshop session which introduced the audience to sensory theatre. This included information about sensory theatre companies, how sensory theatre is applied to performance and how "Kamari Vosa" included these sensory elements. Anthony stated that "this part of the whole event [was] vital as it gave the audience an opportunity to explore sensory theatre before the actual performance" and in turn allowed participants the opportunity to get the most out of the experience.
After receipt of the bursary, Anthony is excited to make his mark in the theatre world and hopes to be known as a theatre maker who challenges established norms. He hopes to use new technologies in the future to push these norms even further.
Amy Bethan Evans
Amy Bethan Evans is a visually impaired playwright and dramaturg who received the Tim Gebbels Bursary to aid her in the production of 'Libby's Eyes', a new piece of writing performed at the Bunker Theatre in June 2018.
The Tim Gebbels Bursary helped towards the production costs of the performance. Amy also managed to crowd fund £1000 and received additional funding from Peggy Ramsay. The production of 'Libby's Eyes' ran for eight shows across four weeks as part of the Breaking Out Festival. Amy is currently working at the BBC and writing a commission for the Royal Court.
Caroline Golding
Caroline Golding is a creative with a focus on creating resources to help promote well-being and creativity for all. Caroline received the Tim Gebbels Bursary for development mentoring: giving insight into her skills and resources and what skills and resources she wanted to develop and where to attain them.
Caroline stated that "It was really important to receive some backing, […] It was really valuable to me have funding to receive the mentoring and to feel my ideas were worth investing in." Caroline is excited for making change through her creative practices. She believes there is a real pleasure in investing time, resources and energy into an individual's ideas, and that interests and investments from people to develop, deliver or distribute something can be the catalyst for personal and industry change.
Through receipt of the bursary, Caroline is looking ahead to future projects, hoping to continue to provide encouragement, and to provoke change in others and the industry.
Anita Barzey
Anita Barzey is a creative facilitator and tutor who received the Tim Gebbels Bursary to fund her attendance of a voiceover course.
It is Anita's belief that the course will open many doors for her and any future endeavours she hopes to undertake. Anita is excited by inclusivity in the arts and believes great steps are being taken to progress inclusive practices. Anita states that being creatively proactive requires stepping outside of conventional ideals: "As a disabled creative mum of two, I have to think outside of the box." Attending a voiceover course will provide Anita with valuable experience to keep pushing those boundaries and in turn, facilitate her to create more projects.