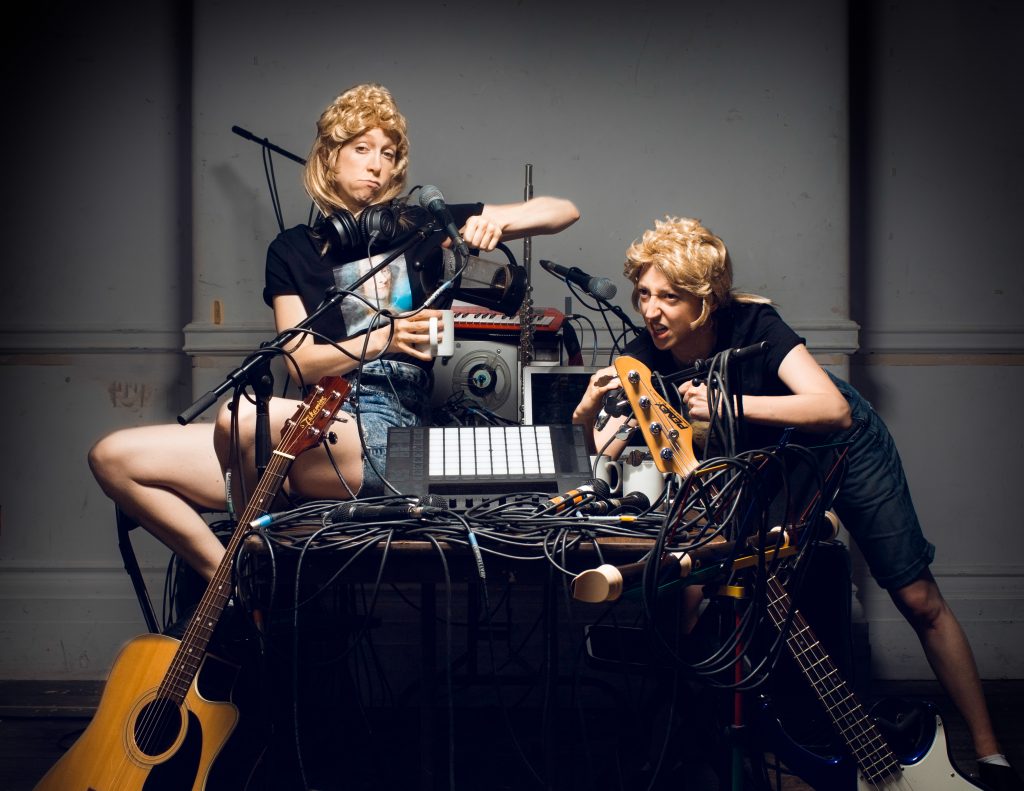 Review by Stephen Portlock
Camden Peoples Theatre
10th – 21st December 2019
She Goat's The Undefineable to me suggested horror a la John Carpenter's The Thing, and while I had been disavowed of this assumption by the publicity blurb, I still expected something if not gothic then at least a little decadent.
That was unfortunate because there was much to enjoy in this hour long show. In many ways it was ideal Christmas fare in its spirit of exuberance and optimism, and in its determined relinquishing of cynicism.
Ostensibly an hour long garage radio show broadcast by two 'dudes' (Shamira Turner and Eugénie Pastor in wigs), it's apparent ramshackle nature was a clear mirage and there can be no doubt that the play was very tightly structured. The Undefineable of the title related to qualities of love", and occasionally the show nudged towards sentimentality such as when a letter between Herman Melville and Nathaniel Hawthorne was intersperced with a recital of Frank and Nancy Sinatra's 'Somethin' Stupid'. Mostly, though, this exploration of the myriad forms of love was interesting and informative such as during a cheeky reading of a letter by French philosopher George Sand and during a discussion of 'The Boston Marriage'.
To me, however, The Undefineable was at its most interesting at several moments in the show when the exuberance was put to one side, the fourth wall was torn down and the performers addressed one another questioning and even challenging their friendship. This raised interesting questions about whether these personas, the singing, dancing and wigs,  were an opportunity for the two women to get closer or rather to hide from unwelcome feelings.
All this made The Undefineable perhaps more than might initially meet the eye, but what was even more impressive to me as a blind reviewer was the creative ways in which She Goat had endeavoured to make their 'play' fully accessible. At the start of the show the set was described in great detail by the two cast members, as if they wished to proudly show off their costumes and everything in their studio. Later on, when the radio 'broadcast' began, it became necessary for them to describe physical actions for any radio 'listeners'. In truth there was, for me, still the occasional moment of confusion but mostly this was a clear case of good practice with inclusivity being written into the plays script rather than simply being considered as an adjunct in the manner of a 'kind gesture'.
So, then, congratulations to She Goat and congratulations also to Extant with whom they collaborated in order to bring about this accessible performance. Caveats notwithstanding The Undefineable still comes strongly recommended and I look forward to further work from this talented company.