Catching the Ghost is back! This play is being performed at Nozstock Festival on 24th July 2022, with Chris and Steve returning to the roles. Information available here: https://nozstock.com/artists/extant-present-catching-the-ghost/
Originally commissioned as a piece for Guide Dogs week in 2016, Extant developed and produced Chris Campion's show CATCHING THE GHOST for Wandsworth and Brighton fringe festivals in May 2017.
This was the debut play from Chris, an experienced musician and actor but new to writing for performance. Catching the Ghost explored the sense of split identity which Chris experienced as an adolescent and then young adult with sight loss, and how he must confront the shadow or 'ghost' of his other, non-disabled self later in adult life.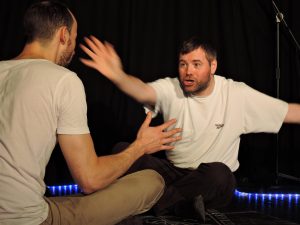 It was performed by Chris and fellow Extant actor Steven George, and incorporated several original songs also written by Chris. The show had its first outing at Wandsworth Arts Fringe, in a pop-up space underneath Putney Bridge, and the following weekend travelled to Brighton fringe audiences at The Komedia, one of the city's eclectic live music and performance venues.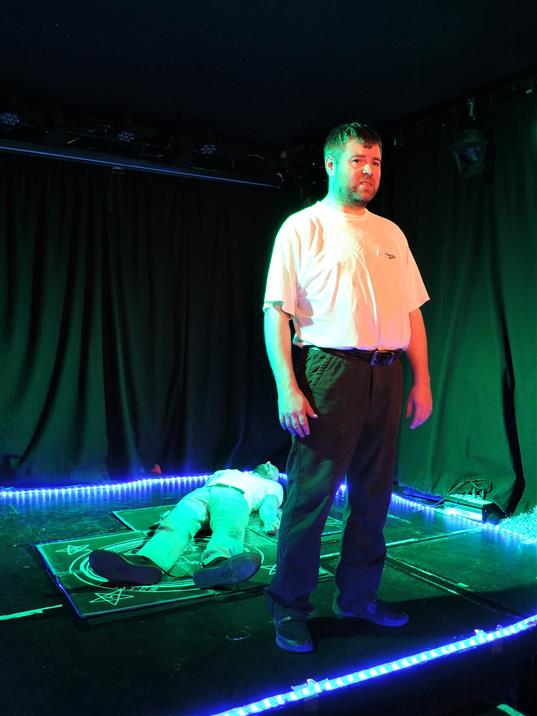 Disability Arts Online came to review the show in Brighton and we were also featured in an article by the Chichester Observer.  Reviewers from the Speed of Sound podcast also came along and interviewed Chris, Steve and director Maria Oshodi; you can listen to the feature here. There was an incredibly positive response from the venues and audiences who came along and we were very proud to develop this new piece of theatre by one of our artists.
Catching the Ghost has been performed overseas to the Blind in Theatre Festival in Zagreb, Croatia.