Riding the rhythm on customized tandems, Extant presented four blind performers in a musical theatre performance as never seen or heard before.
Riding the rhythm on customised tandems, Extant presents a musical theatre performance as never seen or heard before!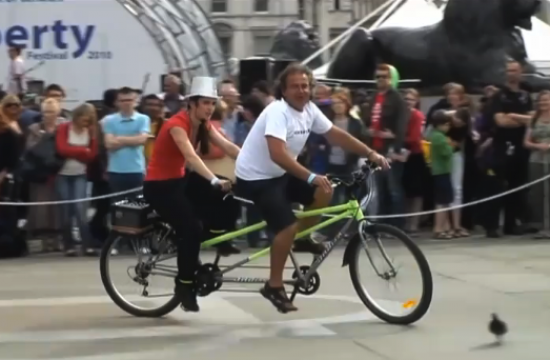 Watch a video of the performance. Film produced by Braunarts.
Inspired by the famous musical 'Gypsy', Braunarts created a sound design for Extant that was transported upon tandem bikes, along with a cast of riders and performers. Commissioned for The Mayor of London's Liberty Festival, this new piece presented a pedal partnership spectacular of moving music and song!
There were two performances at the Liberty Festival on Saturday 4 September 2010 in Trafalgar Square.
Credits:
Director
Maria Oshodi
Music Director
Terry Braun
Performers
Margo Cargill
Amelia Cavallo
Liam O'Carroll
Mickel Smithen
Front Riders
David Dansky
Tim Jeeves
Juliet Kemp
Julian Miller
Project & Production Manager
Christine Hathway
Production Assistant
Natalie Clarke
On-bike sound system designer
Simon Wheeler
Event Manager
Daniel Whewell
With thanks to:
Liberty
The Liberty Festival celebrates the contribution of Deaf and Disabled people to London's culture.
This year it includes:
Sport and arts
Aerial performance
Street arts
Children's arts
Cabaret and comedy
Music
Saturday 4 September 2010
Location: Trafalgar Square
Time: 1pm-5pm
Liberty welcomes everybody and is friendly and accessible.
Website: http://www.london.gov.uk/media/mayor-press-releases/2012/08/liberty-festival-marks-10-years