Extant and Yellow Earth present Flight Paths
2019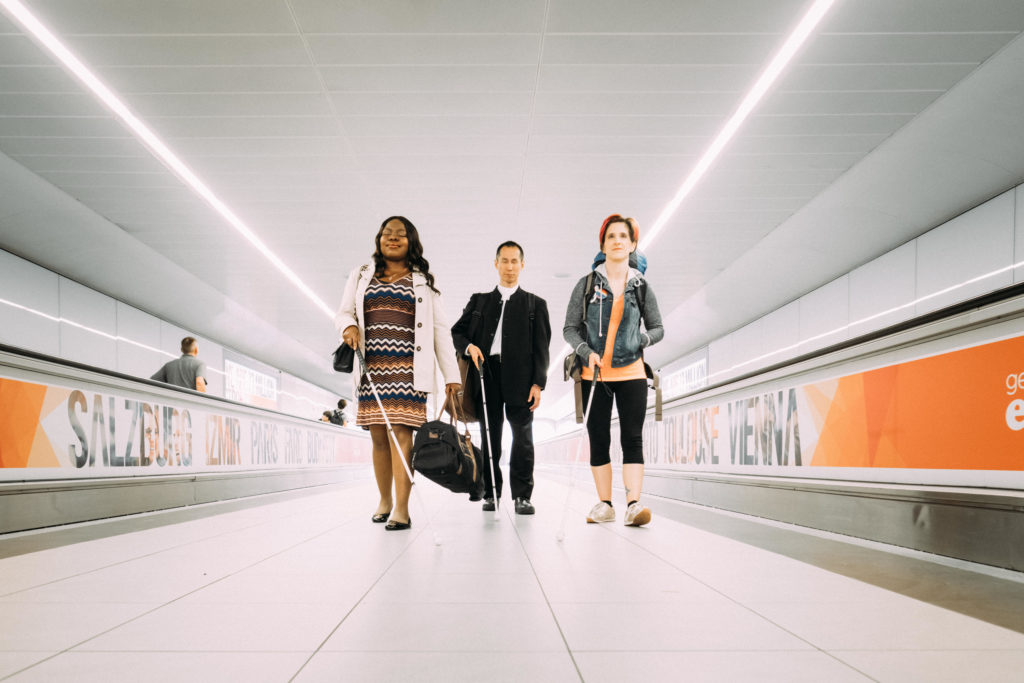 In this production two blind women take centre stage, sometimes on aerial silks, sometimes with their feet firmly on the ground, but always surrounded by voices, music, stories and ghosts.
Flight Paths video trailer
Inspired by the Goze, blind female performers who travelled around medieval Japan making a living from telling epic tales, they move between tradition and modernity, weaving together personal stories of blind artists from Japan, Nigeria and the USA.
Flight Paths was a multi-media production that combined movement, music, narrative and creative audio description using new sound technology.
For a free and accessible digital programme containing more information about the production, its development, details on those involved and to tell us what you thought of the show please click below:
In August 2020, Flight Paths was brought to life on screen for a new digital retelling, commissioned by The Space. With the Goze as your guide and narrator, create and navigate your own pathway through the story. Experience here: http://flightpaths.extant.org.uk/
REVIEWS
"satirical and moving; thought-provoking and exciting, this production is multi-cultural, multi-sensory and multi-layered"
— Disability Arts Online. Read the full review
"a show that has gentleness, kindness, humour […] and honesty woven into its subtle tales"
— East Midlands Theatre. Read the full review
"richly emotional"
— British Theatre Guide. Read the full review
"engaging portrayal of a little-known area of Japanese cultural history"
— Everything Theatre. Read the full review
"And at a moment when the accessibility in theatre is undergoing fierce interrogation, it's worth pointing out that Flight Paths demonstrates how easy it is to get it right with a little bit of care."
— Exeunt Magazine. Read the full review
"Extant and Yellow Earth Theatre have pulled off an ambitious feat, marrying acrobatics, partially sighted performers and Japanese culture."
— Japan Society. Read the full article
On Twitter:
'dynamic, innovative disabled-led co-production…expands artistic and access boundaries' — @DaDaFest
'Terrific blend of theatre, music, narrative and creative audio description' — @HENLEYDARREN
'push[es] the boundaries of #culture #disabilityarts & multi-media #theatre' — @SavvyTheatre
'smart, funny, insightful & completely inclusive' — @ashlie_nels
'Moving and revealing, beautifully mesmerising performances' — @nfairington
'prepare to be blown away' — @DasherGuidedog
'witty political poignant fusion of Japanese and Western stories… The opening is the best live AD I've heard/seen working for sighted and VIP audiences' — @fingersmiths1
'had me gripped' — @katieelston
'brilliant and beautiful' — @CoraliDanceComp
'funny & wonderfully weird, a true exploration inside [Maria's] head! Bold work' — @AliKing151
'Intricate, revelatory, and – quietly but firmly – revolutionary' — @BustingFree
See more on our Twitter moments page
CAST AND CREATIVES
Writer
Glen Neath
Co-directors
Maria Oshodi and Kumiko Mendl
Cast
Amelia Cavallo and Sarah Houbolt with Takashi Kikuchi and Victoria Oruwari
Aerial and movement
Victoria Amedume
Sound
Thor McIntyre-Burnie and Owen Crouch
Audio technologist
Tarim
Designer
Becky Minto
Projections
Terry Braun
Lighting
Nao Nagai
TOUR DATES AND FURTHER INFORMATION
Harlow Playhouse Theatre 
Tuesday 5 February, 7.30 pm
Playhouse Square, The High, Harlow CM20 1LS
Box office: 01279-431945
Pay what you can
playhouseharlow.ticketsolve.com
Touch tour: Tuesday 5 February, 6 – 6:30 pm
Stratford Circus 
Friday 8 February, 7 pm; Saturday 9 February, 2 pm and 7 pm*
Theatre Square, London E15 1BX
Box office: 020 8279 1080
Tickets £15 (£13 concessions)
stratford-circus.com
Touch tours: Friday 8 February, 5:30 – 6 pm; Saturday 9 February, 12:30 – 1 pm and 5:30 – 6 pm
*Post-show discussion: Saturday 9 February, 8:40 – 9 pm in the foyer
Theatr Clwyd 
Friday 15 February, 7.45 pm; Saturday 16 February, 2.45 pm and 7.45 pm*
Civic Centre, Mold CH7 1YA
Box office: 01352 701521
Tickets from £10
www.theatrclwyd.com
Touch tours: Friday 15 February, 6:15 – 6:45 pm; Saturday 16 February, 1:15 – 1:45 pm and 6:15 – 6:45 pm
*Post-show discussion: Saturday 16 February, 9:25 – 9:45 pm in the Hayden Reece Room
Curve Theatre
Tuesday 19 February* and Wednesday 20 February, 7.45 pm
60 Rutland Street, Leicester LE1 1SB
Box office: 0116 242 3595
Tickets from £10
www.curveonline.co.uk
Touch tours: Wednesday 19 February and Thursday 20 February, 6:15 – 6:45 pm
*Post-show discussion: Wednesday 19 February, 9:25 – 9:45 pm onstage 
The Albany 
Friday 1 March, 7.30 pm; Saturday 2 March, 2 pm & 7.30 pm
Albany Centre & Theatre, Douglas Way, London SE8 4AG
Box office: 020 8692 4446
Tickets £14 (£10 concessions)
www.thealbany.org.uk
Touch tours: Friday 1 March, 6 – 6:30 pm; Saturday 2 March, 12:30 – 1 pm and 6 – 6:30 pm
*Post-show discussion: Friday 1 March, 9:10 – 9:30 pm onstage
Arena Theatre
Tuesday 5 March, 7.30 pm
Wulfruna Street, Wolverhampton WV1 1SE
Box office: 01902 321 321
Tickets £12 (£10 concessions)
wlv.ticketsolve.com
Touch tour: Tuesday 5 March, 6 – 6:30 pm
For more information on our collaborators you can visit their websites: