Extant has led a first and second phase investigation into haptic technology and immersive performance in 'The Question' (2010) and 'Flatland' (2015) .
Learn more about these innovative art and technology projects here.
Haptic Theatre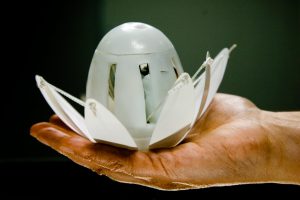 The Question 2010
The Question was a collaborative and immersive theatre project supported by The Technology Strategy Board (Now Innovate UK).  It explored haptic technology in relation to navigation, perception and performance. The research and development phase, culminated in a showing in June 2010 at BAC, and resulted in the generation of the Haptic Lotus device
http://www.thequestion.org.uk/
Flatland 2015
Flatland was a large-scale, pilot installation that used haptic technology to guide audiences through an immersive, pitch-black world of sensation and sound. It was funded by Nest's Digital R/D fund and led by Extant, in collaboration with the Open University and robotics experts Haunted Pliers. In this phase of our work we developed our second generation haptic device, The Animotus, which guided audiences through a world inspired by the 1884 cult novella Flatland.
Learn more about the project here: http://flatland.org.uk/