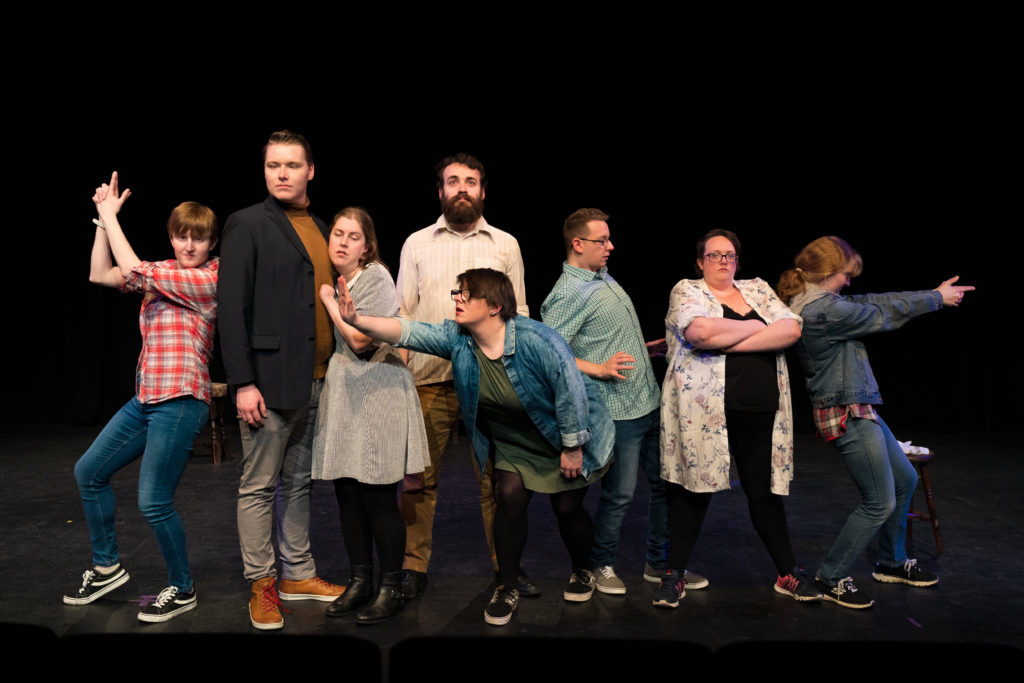 Launched in October 2018, Pathways is part of Extant's long term mission to identify, support and inspire new visually impaired talent for ourselves as a company and the wider industry.
In April, following a series of monthly workshops that ran from October 2018 to March 2019 led by drama schools, industry practitioners and professional Companies, the 8 Pathways actors performed in a Pathways presentation held at RADA Studios. The eight talented Actors; Alex Williams; Anthony Gough; Chloe MacCombe; Danielle Evans; Douglas Walker; Jake Sawyers; Judith MacCombe and Megan John were expertly directed by Julie Osman, performing monologues, ensemble sketches, observations and skits that in one swipe entertained, enlightened and engaged nearly a hundred creative industry professionals and practitioners in the audience, about life as a visually impaired and blind actor.
In the coming months the Pathways actors will continue to be mentored by experienced visually impaired actors and theatre practitioners including: Amelia Cavallo; Christopher Hunter; Elizabeth Wainwright; Georgie Morrell; Heather Gilmore; Karina Jones; Mandy Redvers-Rowe and Steven George.
A film of the event which inspired enormous positivity from the audience is avaliable here:
Pathways: The Event RADA Studios 3 April 2019
An awesome blog written by Baz Productions who were in attendance can be found here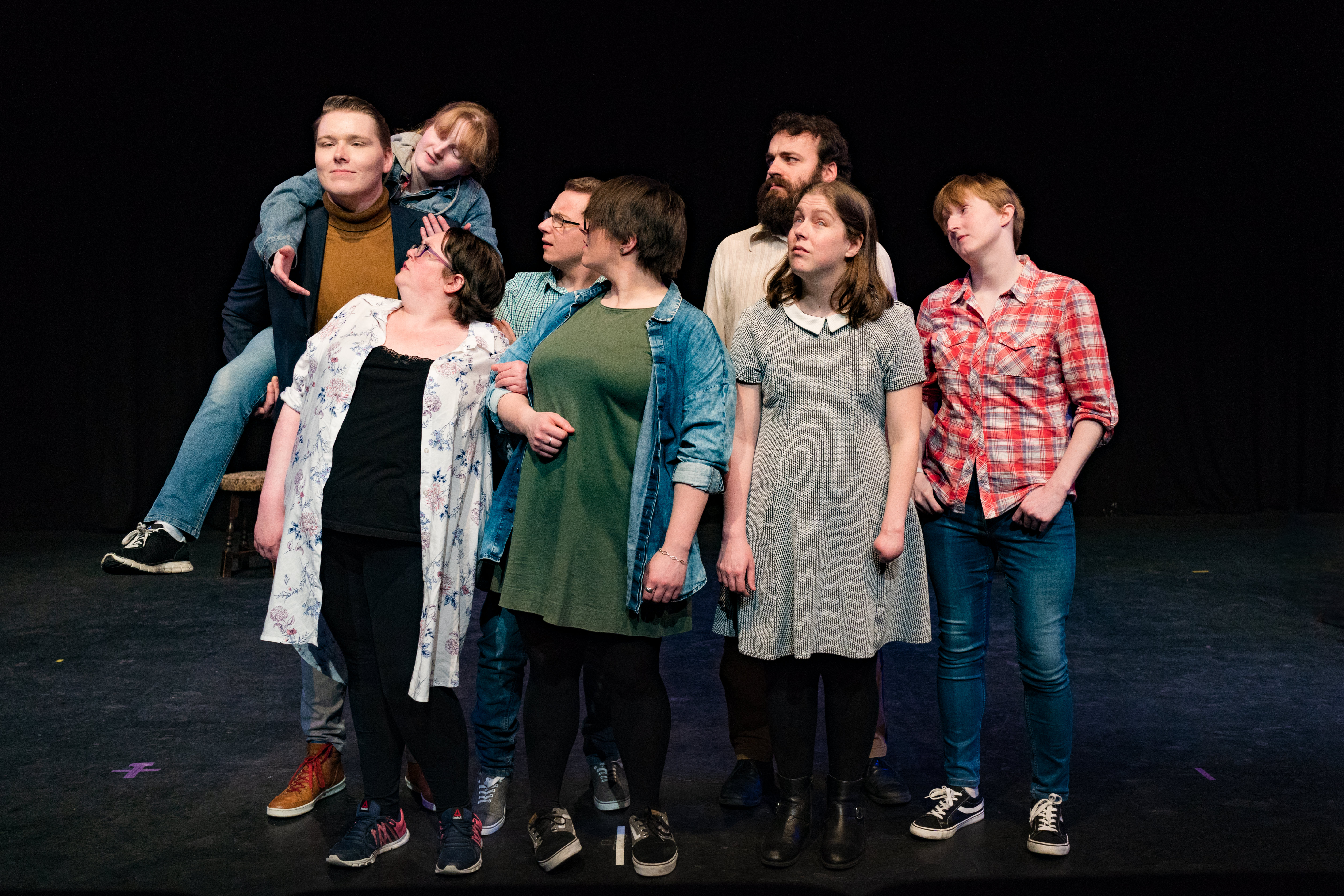 Photo Credit: Christopher Andreou
In addition, to date we have delivered four visually impaired awareness training sessions for practitioners in collaboration with Royal Central School of Speech and Drama, The Actors Centre and the Young Vic Theatre. 41 directors, theatre practitioners and staff from across a number of different drama schools and universities including the Academy of Live & Recorded Arts, Royal Academy of Dramatic Art and the Royal Central School of Speech and Drama have benefitted from these sessions led by Amelia Cavallo and Steven Reed. They explored ways of making the rehearsal room, workshops and audition process more accessible by mainstream practitioners when working with visually impaired people.
We are currently designing Pathways Year 2 which will focus on a programme to support visually impaired directors. To be kept informed please email [email protected]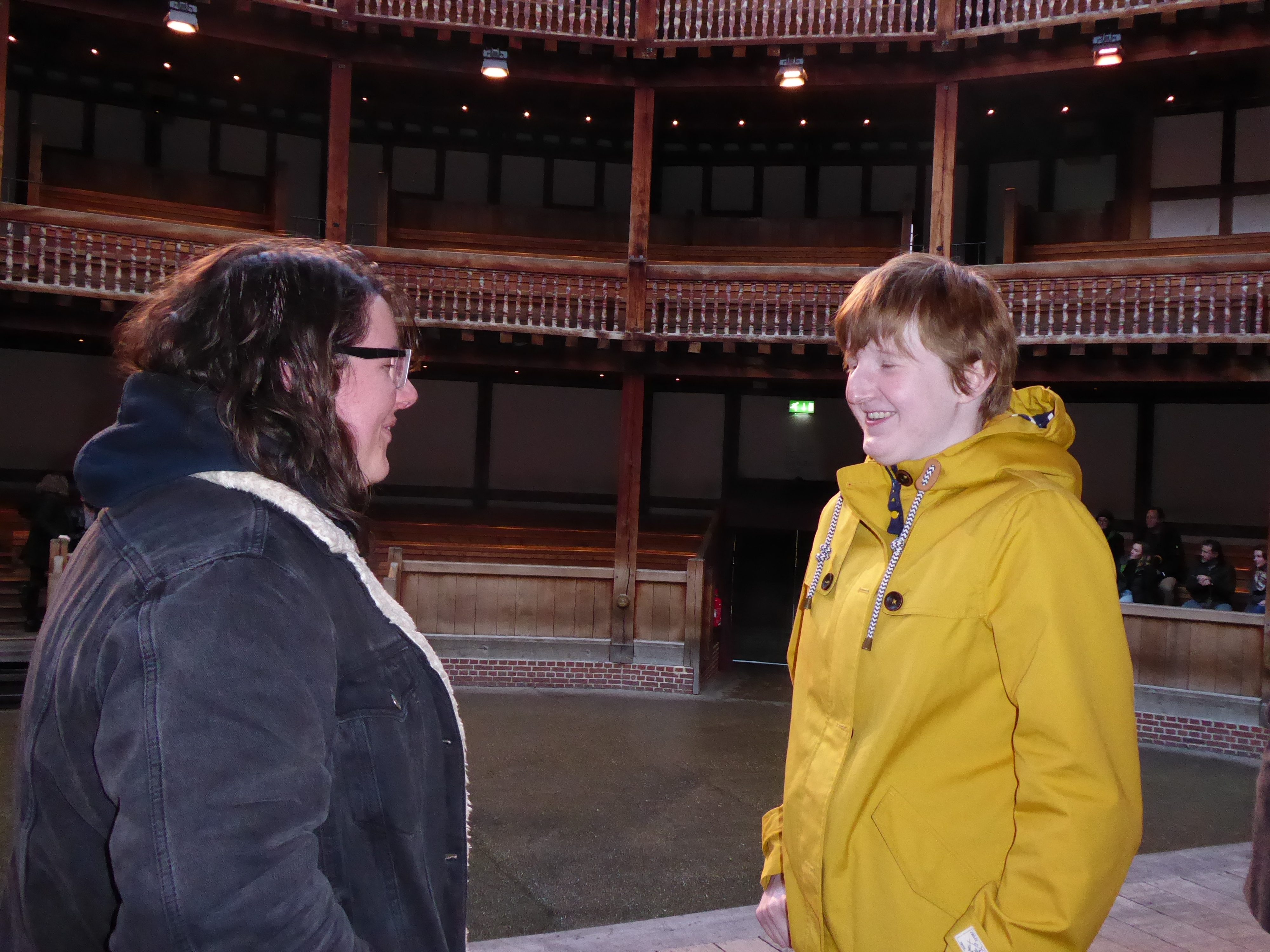 Year one Pathways actors workshop highlights:
October
Amelia Cavallo – physical theatre
"I was surprised at how much I enjoyed it."
"I learnt a lot from Amelia about my own physicality and how we could come together as a group using our physicality. One particular exercise that I learnt and will be utilising again is the tableau exercise. I found this both useful in a number of ways for creating an image using our bodies and developing visual and descriptive vocabulary."
Pathways Launch event –
"The Pathways Launch event was a great way of meeting our mentors for the first time. I learnt some of the barriers that I have experienced has been experienced by others in the room which was not only reassuring but also constructive in providing a way forward."
Session with Maria Oshodi, Artistic Director, Extant
"…invaluable in terms of knowledge gained."
Karina Jones – audition techniques
"I gained an insight into auditioning from a visual impaired perspective. It was interesting to hear the experiences of Karina in relation to auditions and how she approaches them."
November
Emma Gersch – role-play in training
"I gained confidence in my ability to take on that kind of work."
Chloe Clarke – creative access
"I am now looking for a piece that I can perform with integrated access. I firmly believe that access should form part of the process and ot only be something that is attached at the end."
Diane Alison-Mitchell – movement
"I found there to be more application to normal character development than I was expecting, rather than simply to physical theatre."
December
Shakespeare's Globe – a tour and on-stage workshop
"…a breath taking and magical experience."
"I learnt a lot! The history of the location, and just being able to perform on the Globe stage taught me so much for example, the acoustics of the space, what it might be like to perform in the round, it was a very unique experience."
Christopher Hunter – classical text
"Chris made the workshop both engaging and accessible. He made it fun and made me feel more confident in my interpretation."
January
Meet the Directors with John Wilkinson – freelance theatre director and Lisa Spirling, Theatre 503, Artistic Director.
"I made great networking links and discovered the importance of treating myself as a business. I feel motivated to be at the heart of making change happen. I felt I could really relate to John and his approach. Lisa gave me the reboot I needed to also work on my own projects."
Academy of Live & Recorded Arts – acting for camera
"I was absolutely wrong with my first impressions of ALRA. I am really taken aback by what I did learn. It was fun and enjoyable to learn the different types of camera angles and what they meant."
Meet the Casting Directors with Alastair Coomber, National Theatre; Anne McNulty, freelance Casting Director; Helena Palmer, Royal Shakespeare Company and Julia Crampsie, BBC Casting Executive.
"It was interesting to introduce myself four times to 4 huge names in the industry. It made me realise that I do have a lot to offer and can articulate it under a time restraint."
"We couldn't have asked for better people in the room. So useful. I learnt a lot, and gained some great contacts for the future."
February
Royal Academy of Dramatic Art – Alexander Technique
"I learnt and gained a greater understanding of Alexander Technique which made me think of how I need to take my body and breathing more into consideration when preparing for a performance and performing."
Arts Council England – funding workshop
"It was good to know that ACE are able to support applicants with disabilities in the form of funds for access support. Will's top tips for applications were invaluable."
Guildhall of Music and Drama – movement and ensemble work
"I learnt to release my inhibitions and trust my instincts…Finding the truth in acting."
March
1 to 1 monologue work with director, Julie Osman
"The session helped me to establish where the thought changes are in the monologue. It also helped me to decide who the lines were directed to. Julie also gave me some great advice in regards to a tongue-twister of a line."
Royal Central School of Speech and Drama – voice work
"I learnt a few new exercises as a result of this workshop that I plan to keep using. It was interesting to work on our monologues in different ways."
April
Pathways: The Event
"During the performance, I found that laughter in particularly was a huge confidence booster as it told me that the audience were obviously enjoying themselves, which in turn, helped put me at ease so that I could enjoy performing for them too."
"It was class but seemed to fly by! I learned a lot about myself, particularly how I cope under pressure."
Photo Credit: Christopher Andreou