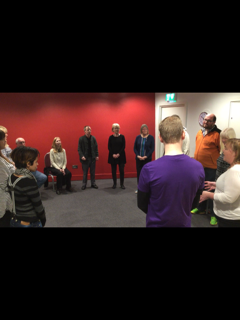 Upcoming opportunities: Extant are at Sight Village Birmingham on 19/20 July, taking place at New Bingley Hall. Please say hello if you're attending – we are there both days sharing a stall with partners mac Birmingham and are running a taster workshop on Wednesday 20th.
Two drama workshops at St Peter's Church on Tuesdays, 19 and 26 July from 11am – 2.30pm. Delivered by trainee Lucy Hayward and supported by Birmingham Vision.
Our Shakespeare workshop series with Elizabeth Wainwright concludes with two more sessions at Z Arts, Manchester, on 23 and 30 July, 10.30am – 12.30pm
Please contact Jodie on 07403273846 or [email protected] if you would like to take part in any of the above workshops.
Regional hub update: Extant's relationship with Action for Blind People Manchester is beginning to grow. We are currently delivering a forum style theatre workshop as part of Action's 'Living With Sight Loss' course in Oldham – following previous workshops delivered in Rochdale and Bolton. They are proving to be a valuable resource and tool for participants recently diagnosed with sight loss. In addition, Extant are delivering a full day's workshop for Galloways Society for the Blind on 29 July. Participants will be exploring movement, voice and character work in a jam-packed friendly day.
During the April 2016 tour of The Chairs, visually impaired facilitators Elizabeth Wainwright and Karina Jones delivered exuberating drama workshops at The Lowry and mac Birmingham. Patrons got to experience the play first-hand by delving into its themes and characters. Afterwards they were able to explore the surroundings of the regional partner venues before taking part in the Extant Touch Tour before the performances.
Celebrating our volunteers: Samuel Wilkins, from Gillingham, Kent, travelled to The Chairs performance and wrap-around activities in Birmingham to capture audio snapshots of the day. Samuel is an aspiring radio journalist! Have listen to his work about The Chairs tour.