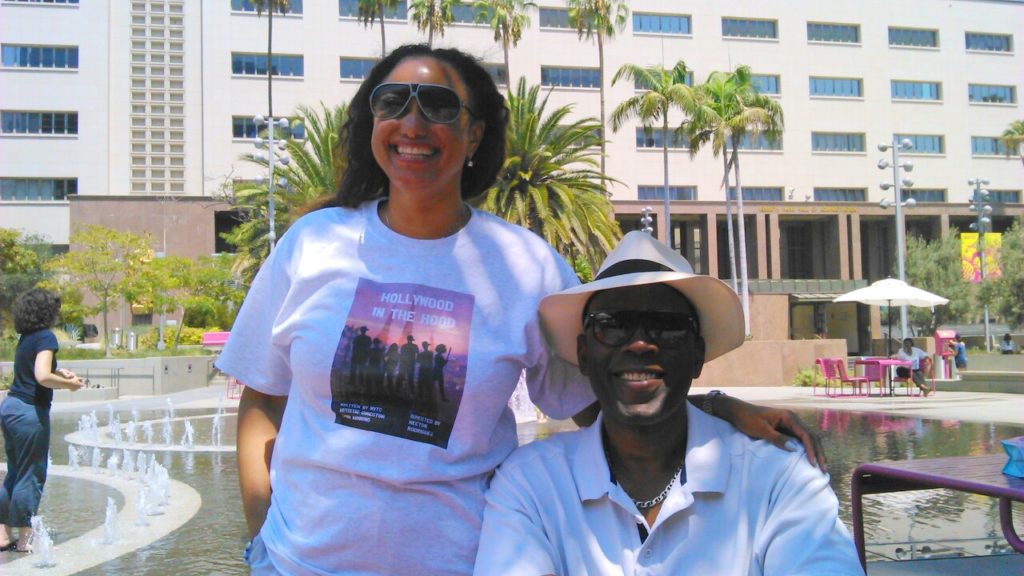 Lynn Manning (1955 – 2015)
Quick-change artist extraordinaire,
I whip out my folded cane
and change from black man to blind man
with a flick of my wrist.
It is a profound metamorphosis–
From God gifted wizard of roundball
dominating backboards across America,
To God-gifted idiot savant
pounding out chart-busters on a cockeyed whim;
From sociopathic gangbanger with death for eyes
to all-seeing soul with saintly spirit;
From rape driven misogynist
to poor motherless child;
From welfare-rich pimp
to disability-rich gimp;
And from 'white man's burden'
to every man's burden.
It is always a profound metamorphosis.
Whether from cursed by man to cursed by God;
or from scripture condemned to God ordained,
My final form is never of my choosing;
I only wield the wand;
You are the magicians.
From Weights by Lynn Manning
I first met Lynn Manning at the 2003 Blind International Theatre festival hosted by the Croatian company New Life in Zagreb. Lynn was treated like something of a star at the festival and this, together with his natural shyness, made him rather remote at first and hard to connect with. It was on seeing Lynn's performance towards the end of that festival in his profound signature one man autobiographical piece 'Weights, which revealed the reason why this ex-paralympic Judo Silver medallist was being so revered at the festival! That performance became a portal to my learning about Lynn's singular story, his artistic talent and something about the highly disciplined and dedicated character that lay behind it all. I decided then to fundraise for Extant to bring him and the show to the UK on a premiere tour, which I'm proud to say, happened in 2005. As a result of this Lynn gained exposure for his work, which led to a further UK tour of 'Weights' by another producer in 2007, where he won an award at the Edinburgh Festival, and again where he returned in 2009.
Lynn repaid me last year by hosting my cultural fellowship to Los Angeles. This gave me a great opportunity to hang out with him and Watts Village Theater Company that he co-founded in 1996, and was the Artistic Director of. To my knowledge Lynn and I were the only two blind artistic directors of African heritage, managing professional theatre companies. Lynn said of WVTC:
'It is the only professional theatre company regularly providing theatrical productions and theatre arts education to the much maligned and sorely underserved Afro-Latino community of Watts. Through the development and innovative production of new works we seek to honour and preserve the rich history of South Los Angeles, and promote mutual appreciation between its diverse cultures.'
During my visit, not only did I get to attend the company's hilarious spoof promenard piece 'Hollywood in the Hood' written by Lynn, and performed at various locations throughout Watts, but I was also introduced to a variety of artistic and blind cultural events, people and places across that sprawling city, and through which I began to understand what an iconic figure Lynn was. More personally I feel I was privileged as a blind person to be offered a unique ushering into that idiosyncratic city through the perspective, guidance and personal history of another blind person as unique a native Angelino as Lynn.
Daily my fascination grew of how another blind person mapped and navigated their city and one that is notorious for its size and reliance on cars. This quickly turned to wanting to artistically express the similarities and differences between both our stories and relationship to our own cities. On my return and for the months to follow Lynn and I began drawing up plans with friends both in London and LA to realise our 'Trail of two Cities' project…
We did know that Lynn was ill; however we were swept along by his complete focus and dedication to developing his work right up until the end, so it therefore came as a tremendous shock to hear of his untimely death this week at the age of 60. In the last two weeks he had proudly been in contact about his selection to meet the President at a White House reception to celebrate the 25th year anniversary of Americans with Disabilities Act.
We are so much poorer for the loss of our warrior, brother and friend; one with a truly eloquent, intellectual and uncompromising voice – But are so much richer for having heard it.
'I've been struck by Maria's innovative ideas for environmental and site-specific theatre making, as well as theatre that challenges people's sensory perceptions and their perceptions of the blind. This is much like what WVTC is striving to accomplish – change outsiders' perceptions of the people and community of Watts.' – Lynn Manning
Extant sends our condolences to all Lynn's family and friends in LA and beyond. We also wish WVTC success in the final stages of rehearsals for 'Riot/Rebellion' which they open this month, and is in remembrance of the 50th Anniversary of the 1965 Watts Riots.
Maria Oshodi August 2015