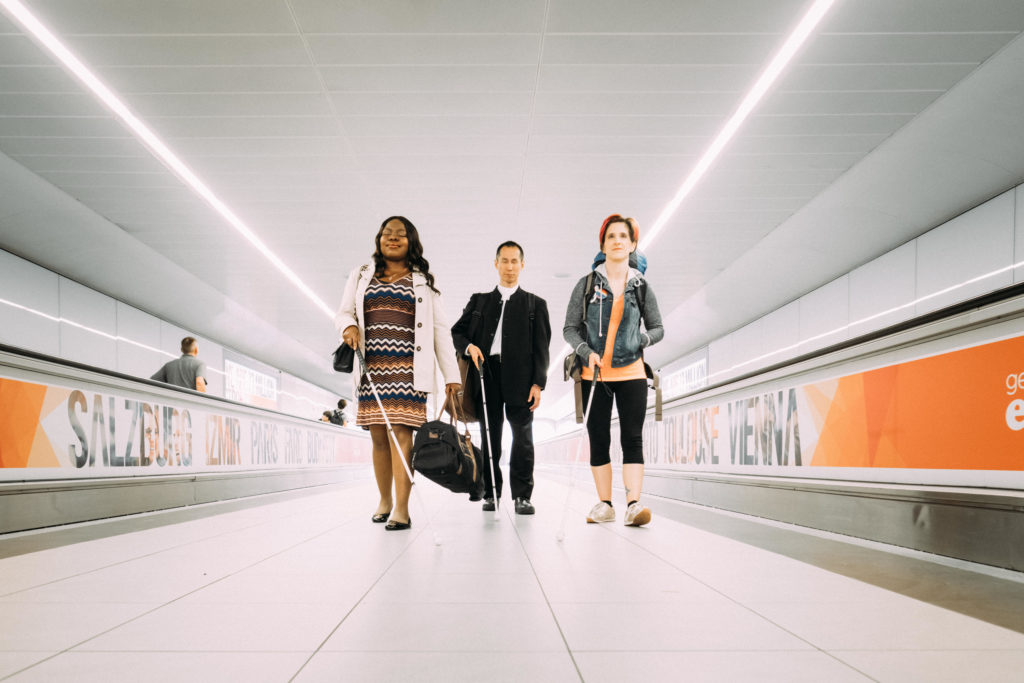 "Welcome on board this flight to London. Please fasten your seatbelts."
Extant is delighted to announce that it has successfully secured funds from Arts Council England's Strategic Touring Fund in order to create a new production called Flight Paths, which will be touring the UK in February/March 2019.
This new play, written by Glen Neath, is inspired by the biwa hôshi of medieval Japan – blind itinerant storytellers who journeyed around the country making a living from their performances of epic tales.
Based on verbatim interviews with the three blind artists, Flight Paths tells the contemporary stories of three visually impaired performers migrating to the UK. Living independently in London for the first time, they each face new challenges with accommodation, language, and forging their careers and lives.
Flight Paths is the result of an ongoing collaboration between artists from Extant and Yellow Earth Theatre, plus movement specialist Vicki Amedume, writer Glen Neath and technologist Tarim. Together we have been exploring our collective experience of working with movement, music and narrative along with experimental audio description and sound technology in order to create an exciting new piece of live performance that will challenge theatrical and access boundaries.
Flight Paths will further the audience development model that Extant pioneered with The Chairs.
Joyce Wilson, London Area Director, Arts Council England said: "Extant has a great track record of using this model to build creative hubs, and we are pleased that through the Strategic Touring Programme it will be able to tour this new play, Flight Paths, to six different venues across England. This is an organisation which consistently champions our mission of Great Art and Culture for Everyone, with its pioneering approach to theatre for visually impaired people. Flight Paths is another strong example of how to be truly inclusive when considering the needs of visually impaired performers and audiences. I am delighted we can fund Extant in this final round, and I hope our support will help it create many more theatre lovers who will enjoy this art form for years to come."
In response to the positive outcome of Extant's application, Artistic Director Maria Oshodi said "Extant is thrilled to have been awarded a grant to enable us to make Flight Paths, a new piece of work which we have been nurturing over the last five years with our artistic partners and performers. It will give our company an opportunity to forge relationships with some new regional venues and make long-lasting connections with new visually impaired audiences."