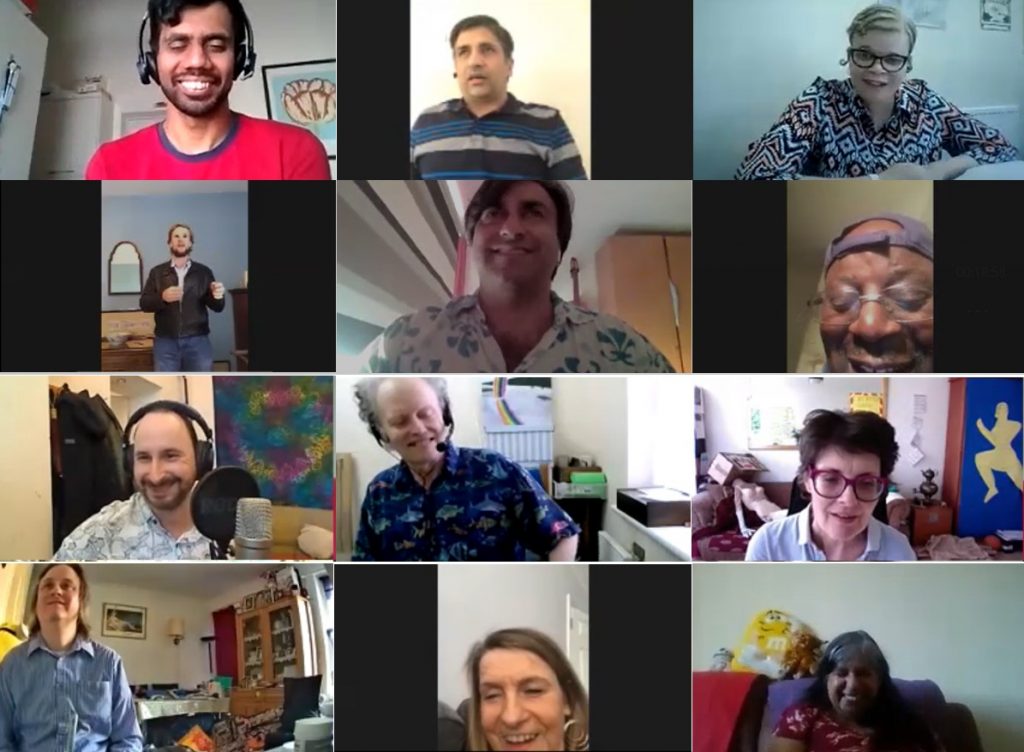 Eye Say, what do you get when over a dozen visually impaired comedians come together?
Eye Say, Eye Say, Eye Say!
On Monday 1 June we held a comedy night via Zoom to launch over a dozen visually impaired comedians aching to spin their take on life under lockdown, Black Lives Matter, the tyranny of tech or just absurd observations on visually impaired life!
Not only a platform for more experienced comedians, 1 June was an opportunity for some of the Extant No Drama's group to try their hand for the first time at a five minute comedy routine, having been mentored in the lead up by visually impaired stand up comedian Georgie Morrell.
Watch a short clip from the show below.
Video description: A video of a Zoom meeting, in a five by five rectangular grid formation. The grids contain close-up profiles of individual Eye Say Eye Say Eye Say comedians in their respective homes, smiling towards the camera, while some others are blacked out or show a generic grey profile image. One of the participants speaks a passage from her showing.
Some of the comments from our Zoom audience were:
"The best line from one of the female comics, by the way which I thought were all fantastic, was (not quoting due to my memory) something like 'now tell me, barman, do I come here often?' I nearly choked for laughter! So glad to hear that there may be more."
"I thought everyone brought energy and verve which was particularly impressive given the remote circumstances."
"It was a great performance and was very happy that I was given the chance to come along and watch."
"I also feel that it would probably work even better with a live audience, as the performers would have a crowd to bounce off of."
"Being visually impaired myself, I could relate to most of the incidents and experiences described in each of the acts!"
"I think that Eye Say, Eye Say, Eye Say as a live comedy event at a venue would definitely work."
…Which is good because we have been booked for a second outing and will be hosting more visually impaired comics at the Bloomsbury Festival in October 2020. More on this coming soon!