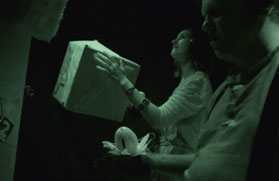 We've just been told that there's a great write-up about Extant in Disability Now – there's a short excerpt below, or click here to read the full article.
Forget everything you think you know about theatre. Forget the traditional "passive" audience experience where the fourth wall is stubbornly fixed in place: the curtain ascends, the performance begins, the actors recall their lines, sticking rigidly to the script.

Instead, step into the world of the experimental and the participatory: the boundary-pushing experience of the new, the modern, and the ultra contemporary.

Enter Maria Oshodi, Artistic Director and CEO of Extant, the UK's first performing arts company managed and produced by visually impaired acting professionals.