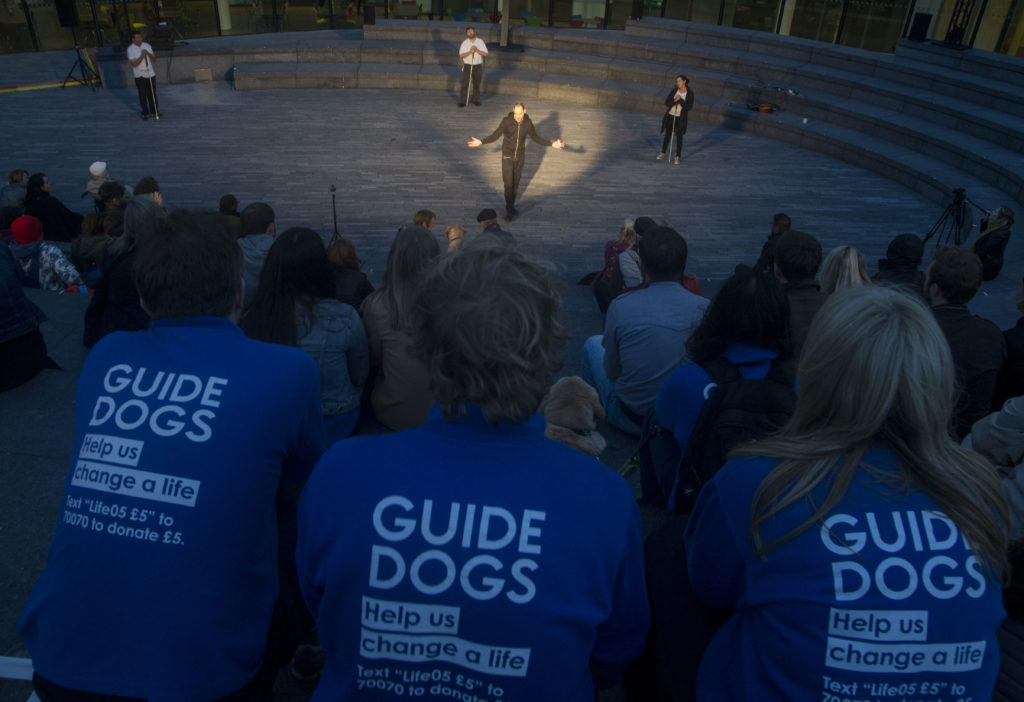 As part of the week-long media celebrations to promote Guide Dogs, we are producing a one-off show of 'Catching the Ghost', a new play written and performed by visually impaired actor Chris Campion, who previously worked with us on ComBUStion in 2015.
Chris' play tells the story of a man split in two; one half running after the past while the other stumbles his way across the present towards an uncertain future. At turns sad, funny and poignant, the play questions how we often look without seeing, and how it feels to live without sight. Will he ever catch the ghost?
'I remember lying on my roof, utterly bewildered and for the first time sensed the ghost. Felt him separate from my body. The ghost of the Chris that didn't break, that didn't lose his sight.'
This performance takes place at 6.30pm on Tuesday 4 October at outdoor venue The Scoop, More London next to City Hall (nearest tube station: London Bridge). It will also be preceded by an immersive walk experience for members of the press, produced by Extant and featuring three other professional visually-impaired actors: Chloe Clarke, Steven George and Sumit Sahni. Come and lend your support to our performers and be a part of Guide Dogs Week! For those who can't attend the event in London, it will be live streamed on the Guide Dogs Facebook page.
Guide Dogs Week runs from 1-9 October 2016. You can follow other news and the lead-up to 'Catching the Ghost' by following both Extant and Guide Dogs on Twitter with the hashtag #GuideDogsWeek