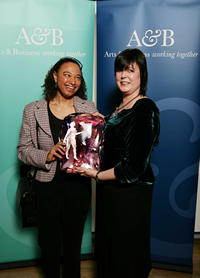 It was announced at the 29th Arts & Business Awards held at London's Hayward Gallery on March the 8th 2007 that Orange PCS and EXTANT won the Arts & Business Diversity Award Category!
The award is in recognition of a business/arts partnership or project that has successfully used the arts to progress a diversity initiative.
Colin Tweedy, Chief Executive, Arts & Business said: "I congratulate the winners of the Arts & Business Diversity Award. The partnership between Orange PCS and Extant shows how businesses can use the arts to extend the applications of their technology and engage with new markets."
Maria Oshodi Extant Artistic Director said "We are proud to be the first disabled led organization to win this award, and by Extant achieving this, we believe we do not have to be the last!" .
Carmel O'Hara Orange Corporate Responsibility Manager said "The major benefit to Orange is to see our technology used to the benefit of those who have a sensory impairment enabling their communication and improving accessibility to a variety of events. This project also allowed us to establish a continuing relationship with an innovative and exciting charity like Extant."
The winning project was The Cast Party, that took place in August 2006, and was an Extant site-specific experimental arts event, supported by Orange and held at the Great Eastern Hotel.
It was a first-ever attempt to research how a social environment could be accessed to visually impaired people through using personal describers, technology, description and navigation.
Colin Tweady "In the past 10 years there has been a golden age in the way in which we project this country through arts and culture. This is an important part of making this country, its economy and society successful for the future. The role of the private sector in delivering this golden age must never be neglected or underestimated. The work of business in inspiring and showing the way for the cultural sector is a force for good."
A DVD of the Cast Party is now available – Contact Extant for more details.
Extant is the first performing arts company in the UK managed by visually impaired arts professionals that aims to promote the arts and culture of the visually impaired community.
Current work includes:
Cabaret in the dark
Forum Theatre
Youth theatre for visually impaired teenagers
Immersive theatre harnessing new technologies
A dramatic reconstruction of the Putney Debates
Recent work – The company's first production Resistance; an innovative theatre piece based on the life of blind French resistance leader Jacques Lusseyran, toured nationally and internationally in 2005. The company works on research, consultation with Arts Council England, and has produced work in the UK by international artists such as New Life from Croatia 2002, and Lynn Manning from Los Angeles, Nov/Dec 2005.
For a complete list of all the awards and winners, visit the 29th Arts & Business Award Winners page of the Arts & Business website