Word to Mouth! A writing workshop for visually impaired writers.
Writing Stage has made me realise that I can now really write, that I don't have to be afraid of it, I can take risks and be at peace with myself about it.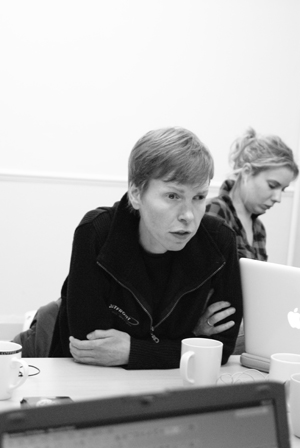 A very stimulating combination of motivating exercises and an opportunity to share with others and realise that a lot of the difficulties you come across as a writer are in common, it's just reassuring to know that you're not alone with some of the difficulties.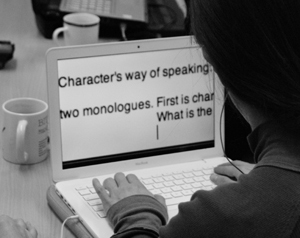 I'm really enjoying it and I'm finding it quite liberating, I haven't really written for several years because my eyesight went several years ago so it's great to get this opportunity to do it and have that freedom and permission to write something.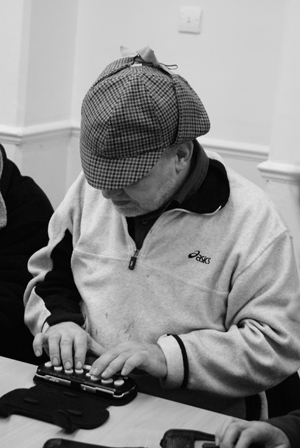 I'm finding this very useful because I'm an actress so I don't normally think about how to write something like dialogue, usually I wait for somebody else to write it for me, so to have to start from scratch and figure out how to be on the other side is a big challenge for me and I'm finding it very useful to be on that side, to understand what it means and what you have to do, it's very good.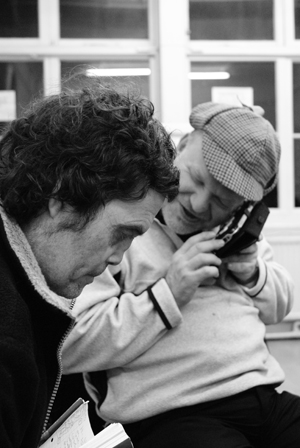 It's something I struggle doing, thinking of character, even in writing my novel, I have difficulty disciplining myself to create a character clearly, so that's what's really useful here.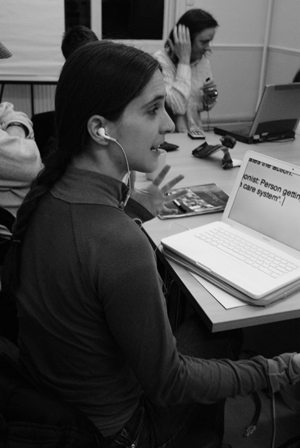 In a sense, when writing for the stage, you're meeting characters face to face, instead of in a book's pages, and that's what Alex is helping me to sort out and to achieve.
About the tutor.
Alex Bulmer is a writer and teacher. Originally from Canada, Alex studied acting at Ryerson Theatre School in Toronto and went on to complete a diploma in voice and text at the Central School of Speech and Drama in the UK. Alex turned to writing in her mid twenties and is writer and narrator of Life Unseen, an acoustic documentary developed with acclaimed Canadian composer Darren Copeland. She is a New York Radio Award nominated writer for her work with CBC radio's Out Front, writer of Beauty, a short film which won Best Documentary at the Toronto International Disability Film Festival, and critically acclaimed writer of SMUDGE, her first stageplay which earned two Best New Play nominations in Canada and went on to be named as Time Out's Critics Choice during it's UK production.
Alex has written for Polka Theatre Company and Graeae Theatre Company as well as the BBC radio; winning an AMI award for her adaptation of The Hunchback of Notre Dame. She was one of three writers of the Channel 4's groundbreaking series Cast Offs which earned a Royal Television Society nomination for Best Drama and she recently won a UKFC and 104 Films digital shorts competition for her original screenplay Finding A Sky, which will premiere at the British Film Institute in December 2010.