Extant has had an exceptional year touring our first groundbreaking production Resistance, nationally and internationally. This is the first time that visually impaired people have come together in this country to professionally produce something on such a scale. Keeping the momentum going now depends on exploration of many spheres of influence, including the work of other visually impaired artists of which there is a wealth outside of this country.
In 1999, New Life (www.hr/darko/etf/blind.html), the Croatian visually impaired theatre company began a Blind In Theatre (BIT) festival, now held every two years in Zagreb. This ignited a cultural dialogue between visually impaired theatre practitioners, with Extant furthering the international exchange by producing the first tour of New Life's, Zeros & Nils to England in 2002. Extant attended the 3rd BIT festival in October 2003, and it was here that we were introduced to the talent of Lynn Manning.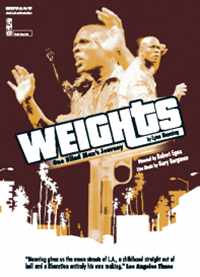 Whilst Extant develops our own work, we feel it imperative to share our discoveries of relevant, high quality drama with our audiences in the UK. Not only are we proud to be producing with Turtle Key, the premiere of Lynn's compelling production, but by bringing Lynn from Los Angeles together with Gary Bergman from New York's Theatre By the Blind (www.tbtb.org), we also wish to illustrate a collaboration between us that reflects the rich terrains that we occupy as visually impaired artists.
Maria Oshodi – Extant Artistic Director
Extant, formed in 1997, is the first performing arts organisation in the UK, managed for and by blind professional arts practitioners, who seek to promote the arts and culture of the visually impaired community. Our work aims to push boundaries, be consultative and involve high production values. www.extant.org.uk
Turtle Key Arts is an arts production company that combines production and technical skills with experienced education and training work. We work with artists, dancers, theatre companies, venues, disability arts organisations and the education sector. Turtle Key aims to ensure that all of their projects include access as a central part of their commitment. www.turtlekeyarts.org.uk
A note from Lynn Manning
Before I launch into my litany of well deserved acknowledgements, I wish to first express my sincerest thanks to Maria Oshodi and Extant for helping me to fulfil what must be every English speaking poet/playwright/thespian's dream – to perform my own work on the London stage. After a London run of any length, I might easily have accepted that my play, Weights, would have received its due. The fact that Extant has booked Weights for a multiple city tour of the U.K has shattered the confines of my limited imaginings. It's only fitting that Britain's first blind theatre company should introduce me to The United Kingdom, and the United Kingdom to my work. I am forever grateful.
Special thanks to my friend and director, Robert Egan, for his immeasurable contribution to Weights and my performance of it. Thanks also to my friends and mentors, Irene Oppenheim and Victoria Lewis Ph. D, for their relentlessly honest dramaturgy in the development of the play. Thanks to New York's Theatre By The Blind for bringing Gary Bergman and me together for its 2004, Off Broadway production of Weights. The pairing ultimately spawned the Bridge Multimedia audio CD collaboration, Weights: One Blind Man's Journey. Lastly, but most importantly, thanks to the staff and volunteers of The Braille Institute of America.
In loving memory of my mother, Stella Williams: 1935 – 1999.
Lynn Manning
Lynn Manning is an award winning playwright, poet, actor, Paralympic Silver Medallist and former Blind Judo Champion of The world. Lynn is currently Technical Advisor to the new hit ABC/Bochco cop drama, Blind Justice.
New York's Theatre By The Blind's 2004 "Off Broadway" production of Lynn's autobiographical solo show, Weights, received rave reviews. In Los Angeles, Centre Theatre Group's original 2001 production of Weights won three NAACP Theatre Awards, including Best Actor. Lynn has since performed Weights at The Kennedy Centre for the Performing arts in Washington DC; The 2003 National Black Theatre Festival in Winston-Salem, North Carolina; and The 2003 & 2005 International Blind And Visually Impaired Theatre Festival in Zagreb, Croatia.
As a television actor, Lynn has appeared on 8 Simple Rules, Popular, Sienfeld, The Sinbad Show, and Dream On and featured in many commercials. Lynn wrote and starred in the independent short film, Shoot! – debuted at the Sundance Film Festival 2001, premiered on HBO/Cinemax.
Recognising a need for theatre and theatre arts education in L.A.'s underserved community of Watts, Lynn Co-founded the Watts Village Theatre Company and serves as President of The Board and Literary Manager. He is President of the Firehouse Theatre Company, which is dedicated to the involvement of persons with disability in all aspects of the theatrical performing arts. Lynn was KCET TV's Community Artist Unsung Heroes honouree for 2004.
Watts Village Theatre Company's 2003 production of Lynn's play, Private Battle, at The Mafundi Institute was awarded an NAACP Theatre Award. Lynn is an active member of the Screen Actors' Guild, Actors' Equity, and the American Federation Of Radio And Television artists. He is also a current member of the actor's Studio's West-coast Writers/Directors Unit.
Lynn achieved 'world class' status in competitive judo, represented the United States in the 1988 Paralympic Games in Seoul, South Korea and became the U.S. Olympic Committee's "Blind Male Athlete Of The Year" after winning the Blind Judo World Championship 1990 World Victory Games, Holland. He won the first World Cup for blind judo in Italy in 1991, and a silver medal in the 1992 Paralympics at Barcelona. Lynn now teaches judo to blind and visually impaired students at the Braille Institute, Hollywood.
To learn more about Lynn Manning and order a copy of the fully accessible Weights CD, recorded live at Capitol Studios, visit the website http://www.bridgemultimedia.com/weights.php Brought to you by Bridge Multimedia: Bridging accessibility and technology. www.bridgemultimedia.com
Gary Bergman
Gary Bergman (Live Accompaniment, Original Music) is a legally blind actor, playwright, sound designer, and composer. He is currently affiliated with an Off-Broadway New York theatre company, Theatre By The Blind (TBTB). He designed sound for TBTB's Murder In Baker Street and Vassa, was music director for Brecht on Brecht, and acted with TBTB in Ten Little Indians, Brecht on Brecht, Murder, In Baker Street, Misalliance, Light Up The Sky, It's Only A Play, and workshops of Hamlet, As You Like It, and The Merchant of Venice. Three of his one-acts were given staged readings by TBTB in June 2000 and two in Love Creek's One-Act Festival in the fall of 2001. He provided the auditory arrangements for the North-western University Dance Company in Chicago, the Mary Moody Northern Theatre in Austin, Texas and several small independent films in New York. He has performed at the Blind In Theatre Festival in Croatia in 2001, 2003, and 2005. Most recently, he created and performed the score and sound effects for the NY premiere of Weights; several of these pieces can be found on the commercial CD release.
Produced by Extant
Production Manager – Graham McGrath
Company Manager – Catarina Almeida
Tour production & Marketing – Turtle Key Arts
Project Documentation – Alan Bowyer
BSL Interpreter – Jackie Beckford
Special Thanks: Number One Practical Car & Van Rental. Ollie Price, Sue Rolf, The Theatre Museum, Thanks to I-Force and Action for Blind People for set storage.
If you would like to receive occasional information about Extant or Turtle Key and their work please send your contact details (name, address, email) to Shaun Dawson, Turtle Key Arts, Ladbroke Hall, 79 Barlby Road, London W10 6AZ, Phone 020 8964 5060, Email [email protected]
Logos – Arts Council England & Visiting Arts