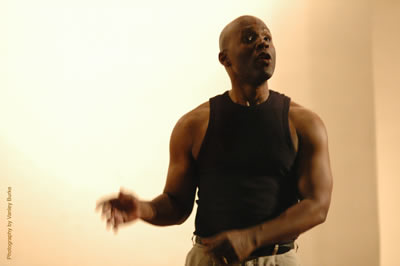 Lynn Manning is an award winning playwright, poet, actor, Paralympic Silver Medallist and former Blind Judo Champion of the World. He accomplished all of this after being shot and blinded in a Hollywood bar at age 23. Lynn is Co-founder and Literary Manager of Watts Village Theater Company, and is also President of the Firehouse Theater Company.
Manning's play, PRIVATE BATTLE, received an NAACP Theater Award; THE LAST OUTPOST, (originally commissioned by The New York Shakespeare Festival Theatre) was nominated for four NAACP Theater awards. Lynn is currently writing an adaptation of Shakespeare's Othello, titled, UP FROM THE DOWNS, for Watts Village Theater Company.
As an actor, Lynn has appeared on TV shows such as Popular, Sienfeld, The Sinbad Show, and Dream On. Lynn wrote and starred in the independent short film, Shoot!, which debuted at the Sundance Film Festival in 2001, and world premiered on HBO/Cinemax the same year. In 2001, Lynn completed 3 years as California arts Council's Artist In Residence at the Mark Taper Forum.
In 1988, Lynn represented the United states in the 1988 Paralympic Games in Seoul, South Korea. He went on to become the U.S. Olympic Committee's "Blind Male Athlete Of The Year" after winning the Blind Judo World Championship at the 1990 World Victory Games in Holland. He also won the first World Cup for blind judo in Italy in 1991, and took a silver medal in the 1992 Paralympics at Barcelona.
Lynn's poetry has appeared in numerous magazines and literary anthologies such as, STARING BACK (THE DISABILITY EXPERIENCE FROM THE INSIDE OUT), and GRAND PASSION, an anthology of Los Angeles poets. His solo spoken word' CD, CLARITY OF VISION was release on New Alliance Records in 1994.
Lynn is currently Technical Advisor for the new Steven Bochco television series, Blind Justice.
For more information see www.lynnmanning.com