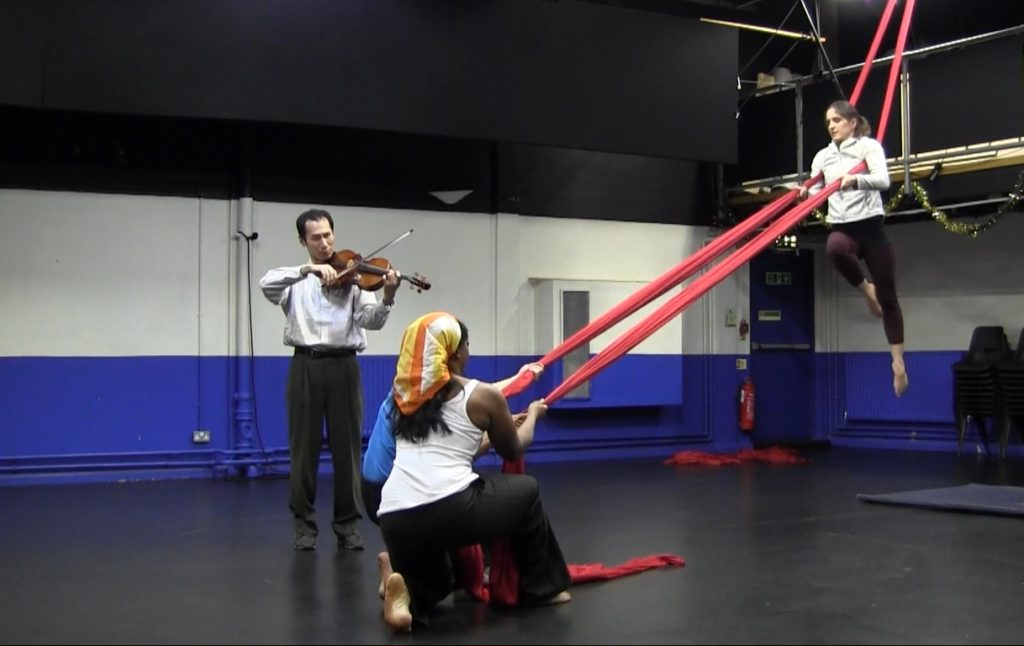 Flight Paths, Extant's ground-breaking collaboration with Upswing and Yellow Earth Theatre exploring aerial movement, music, narrative and live description, will begin its next phase of development in November 2014. Following a very well received scratch performance in 2013 (then titled 'Aerial Alloy'), the team has received R&D funding from UNLIMITED, the commissioning agency which celebrates disabled artists. They will work with state-of-the-art audio technology to develop this live performance piece which uncovers new ways to engage, move and excite an audience both visually impaired and sighted.
See an example of Flight Paths' innovative approach to integrated audio description on YouTube.
This collaboration by three female artistic directors is led by Maria Oshodi (Extant), working together with Vicki Amedume (Upswing – contemporary circus) and Kumiko Mendl (Yellow Earth – British East Asian theatre). Flight Paths is a performance piece inspired by the traditions of Biwa Hoshi players: blind itinerant performers from medieval Japan who earned their living reciting tales to biwa music. In response, four visually impaired artists will explore their personal stories of migration to the UK.
In conventional performance models, audio description for visually impaired audiences is usually a practical description of the action, delivered through headsets. Flight Paths offers an innovative and compelling model for accessible performance that breaks down the barriers between sighted and visually impaired audience, by combining storytelling involving emotional and narrative subtext within the audio description, which will be narrated by the artists themselves as a core feature of the performance.