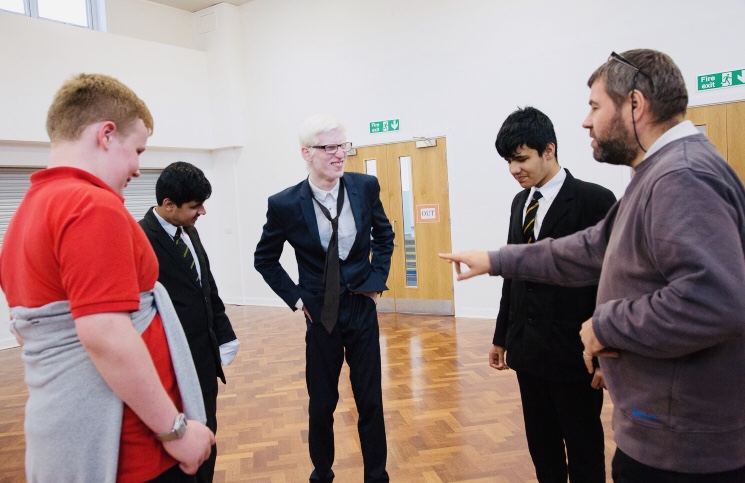 Chris Campion was commissioned to write a play by Extant for Guide Dogs Week in 2016, the first incarnation of, 'Catching the Ghost' was born and performed on 4th October, with Chris and a chorus of three other actors, including me. It had a great reception, which inspired the very talented writer, musician and actor Chris to do more with the play. It was rewritten as an hour-long two-hander, which Chris and I performed at both the Wandsworth and Brighton Fringe in May 2017. We then had the pleasure of representing Extant at the Blind in Theatre Festival in Zagreb, Croatia, before taking it to Bloomsbury Festival this time last year. Amy Neilson Smith had scoped us out, sensing it would be perfect "theatrical highlight" (Amy's words!) for the multisensory launch of 'A Blind Bit of Difference', a book of sensory poetry, Spoken Word and poetical stories by the students of Joseph Clarke School – Centre of Excellence for Vision Impairment and Complex Needs.
Two years to the day after the first performance of 'Catching the Ghost' on National Poetry Day, Chris and I arrived at the school to work with the future voices of the vision impairment! We were welcomed with a 'Tasting Colour' experience! What you say? 'Tasting Colour'? Plates pilled with strawberries, popping candy, stormy dark chocolate and more, were laid out before us like a banquet, to taste and come up with a metaphor to describe the food, but replacing the food name with its colour. A couple of my favourites were capers, being "green is as sour as a sweaty sock" and Quavers "being yellow is crunchy like an autumn leaf". The metaphors the students came up with were incredibly descriptive, painting great pictures, with some being grotesquely imaginative, as a "yellow" food was described "as a pus-filled wound". There were also beautiful ones too! But the gross ones added belly laughs!
Next Chris and I performed a ten-minute teaser of 'Catching the Ghost'. We concentrated on the more comedic elements as well as one of the biographical bits relating to Chris's school life. It was wonderful to perform to an audience totally made up of VIPs (Vison Impaired People!), as they could all relate to the stories we were telling. The students were laughing in all the right places and followed the story perfectly!
The students then gave impro a go! They started with the reason we were there, by performing their poems from 'A Blind Bit of Difference'. I was blown away by the standard! They were outstanding! Chris and I were asked to give feedback to the students, which made me feel like an X Factor judge, however, there were no evil Simon Cowell comments, as none of the performance poets warranted it. Passion really came out of Talha's writing. I really felt the "dooming" relationship he had with his Braille machine and the love he had found for Spoken Word. Free of his Braille machine. His performance allowed us to go on the journey with him. And who can forget Tom and his "Fifteen Farts Firing in the Distance" poem? A natural comedy talent!
The students went on to devise an improvisation, inspired by Chris's play, that will be performed at their big launch tonight! I'm not going to say too much about this, as I don't want to spoil it, but the ideas flooding out of the students were fantastic. They wanted to look at the awkward situations VIPs can find themselves in, and I loved it when the tables got turned on the performers playing sighted characters and the infamous words, "It's over there" were spoken.
I know we inspired them, but these students also inspired me to go away and write some poetry! This is why it's really important for their voices to be heard. These students are the blind and (VI) role models of the future, whose talent and enthusiasm need to be nurtured now, so they can inspire the generations after them. Diversity is a real "buzz word" in the arts at the moment. After years of neglect disabled artists, amongst other minority groups are being noticed and their voices are being heard and they are only going to get louder. Opportunities are slowly becoming greater. So, projects like this are so important to encourage and bring the blind and (VI) voices of the future to the forefront! Also, people like Amy Neilson Smith need to be commended for producing projects like this. Without her enthusiasm and passion, these students talents may still be hidden. The relationships and trust she has built up with these students have enabled their talents to bloom like the flowers at Chelsea Flower Show! They can continue to grow and follow their dreams! Now in action! Amy made 'A Blind Bit of Difference' to these students so, get behind this project, come to the launch tonight at The Albany Theatre – there is a whole host of Featured Adult Artists like Miss Jacqui and more! Buy the book and make a difference too, as all proceeds go back to the school! And by the way, the launch opens with an edible sculpture audio described by the poets and a 'Tasting Colour' buffet extravaganza for the audience – be the blast of a live show begins!