The Goze
Interview with blind anthropologist professor Kojiro Hirose below, and further reading sources on the Goze and Patrick Lafcadio Hearn and the Hoichi story.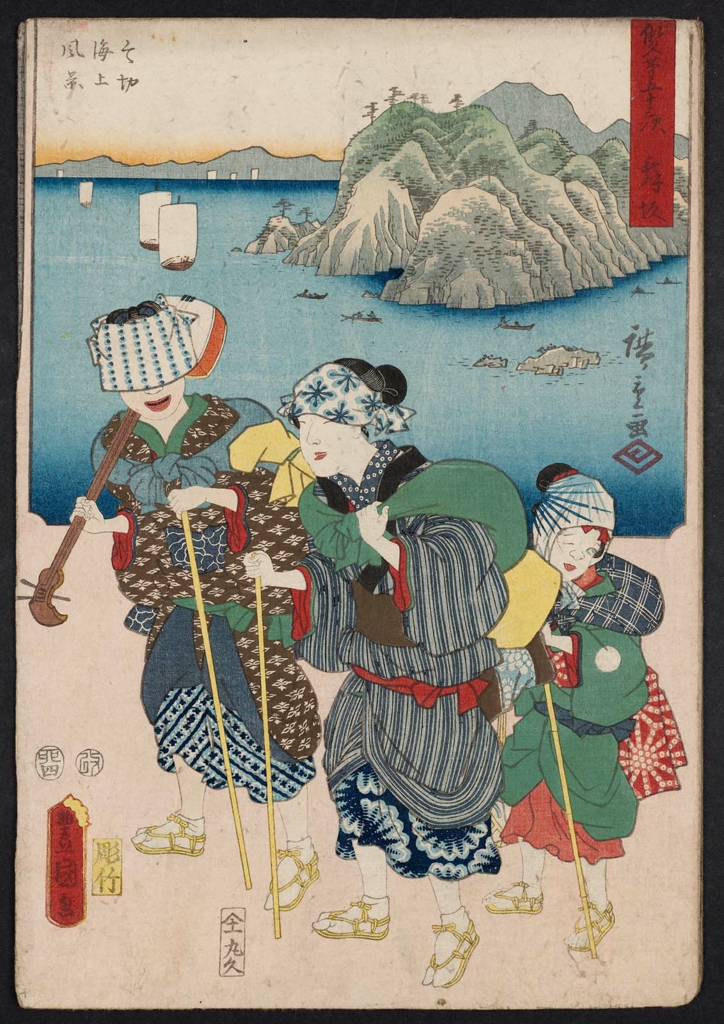 The Goze were blind female storytellers and musicians who travelled the length and breadth of medieval Japan making a living from performing epic tales. In this production, two blind women take centre stage sometimes on aerial silks, sometimes with their feet firmly on the ground but always surrounded by voices, music, stories and ghosts.
Interview with professor Kojiro Hirose
EXTANT: Tell us a little bit about you and your work.
KOJIRO HIROSE: My name is Kojiro Hirose; I'm totally blind and come from Japan. I'm 50 years old... Quite old! (Laughs.) I work at the National Museum of Ethnology in Osaka, Japan. I began working there in 2001 so I've been there for 18 years now. Chiefly, I'm a historian with a particular interest in the history of blind people in Japan.
EXTANT: Give us a brief history of the biwa hōshi.
KH: The biwa hōshi are first mentioned in historical documents dating back to the 10th Century. They were seen not only as entertainers but as shamans: persons regarded as having access to, and influence in, the world of good and evil spirits. Their practice incorporated both storytelling and singing.
The biwa hōshi are believed to be the first performers of the Tale of Heike, one of Japan's most famous epics and a cornerstone of oral literature. Their activities peaked in the 14th Century thanks largely to the popularity of the epic. Along with the biwa, a Japanese short-necked fretted lute, the tale became synonymous with the biwa hōshi.
From the 15th Century, the biwa hōshi's role as entertainers began to eclipse their shamanic function. Around this time most biwa hōshi exchanged the biwa for the shamisen, a three-stringed traditional Japanese musical instrument derived from the Chinese sanxian. By the 19th Century, biwa hōshi continued to perform in the far north and south of Japan, with some performers living and working right up until the latter part of the 20th Century.
EXTANT: The goze were visually-impaired Japanese women, most of whom worked as musicians. Did the biwa hōshi lead directly to the goze, or did they develop in isolation?
KH: The term 'biwa hōshi' emerged in the 10th Century to specifically describe a blind male storyteller. The goze, meanwhile, appear in literature dating to the 15th Century. While I believe that the female goze of course inspired by the practices and structure of the biwa hoshi the centuries between the two suggest that there is no direct relationship.
EXTANT: You join us at an early stage in the development Flight Paths. Have you been made aware of specific connections between your work and that of Extant?
KH: Both mine and Extant's work expands the cultural life of blind and partially sighted people. I work in a museum where I have introduced touch tours to many exhibits. Like Extant my work, in turn, has a positive impact on the cultural life of sighted people. I believe that touching an artefact allows both sighted and visually impaired visitors to the museum to fully appreciate it.
The idea that life can and should be lived using other senses is a one I learned through studying the biwa hōshi. My main aim in keeping the story of the biwa hōshi alive through my work is to inspire the independence and resilience they had in blind and partially sighted people today.
My work and Extant's run in parallel towards the same goal: exploring how to live, how to carry on, not by depending on sight, but by using all the other senses. Their work resonates so much with me. I was honoured to contribute to Flight Paths. Though it focuses on the lives of blind and partially sighted people, the show is for everyone. This is what I have sought to achieve at the museum.
EXTANT: Today you had jerk chicken for lunch: was this your first time and what did you think of it?
KH: (Laughs.)
I recognise that the commonly held belief is that British food isn't so... delicious. However, during my visit, I've realised that London offers cuisine from all over the world and plenty of delicious, tasty things do exist here. That was a nice surprise and when I go back to Japan I'll be telling everyone that they can get nice food in England! And of course the jerk chicken was very delicious and, yes, it was my first time.
Images via Museum of Fine Art Boston: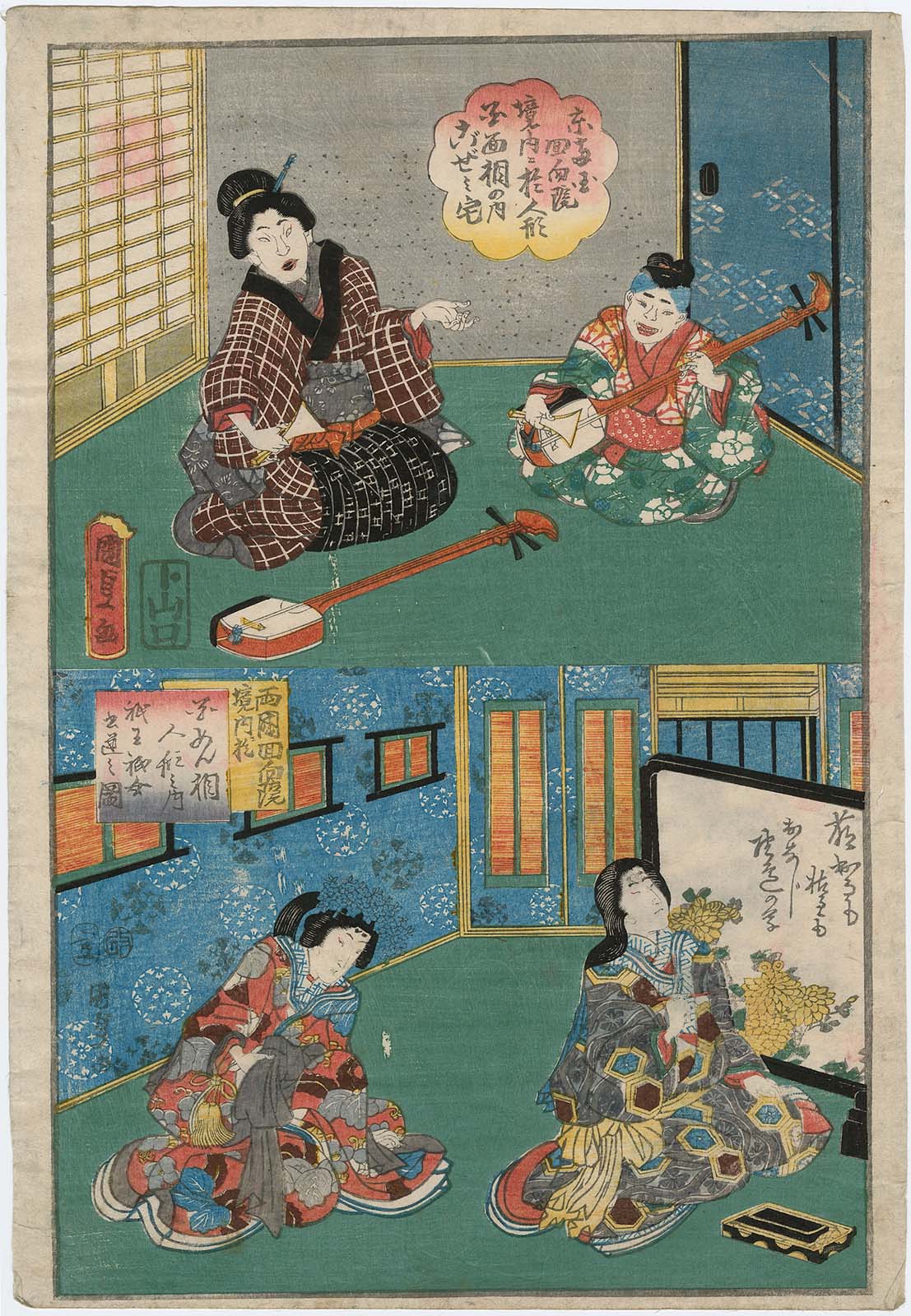 Home of Blind Female Musicians (Goze no taku) (above) and Giô and Gijo Renouncing the World (Giô Gijo shusse no zu) (below), from the series Dolls with a Hundred Faces Displayed in the Precincts of the Ekô-in in Eastern Ryogoku (Higashi Ryôgoku Ekô-in kei)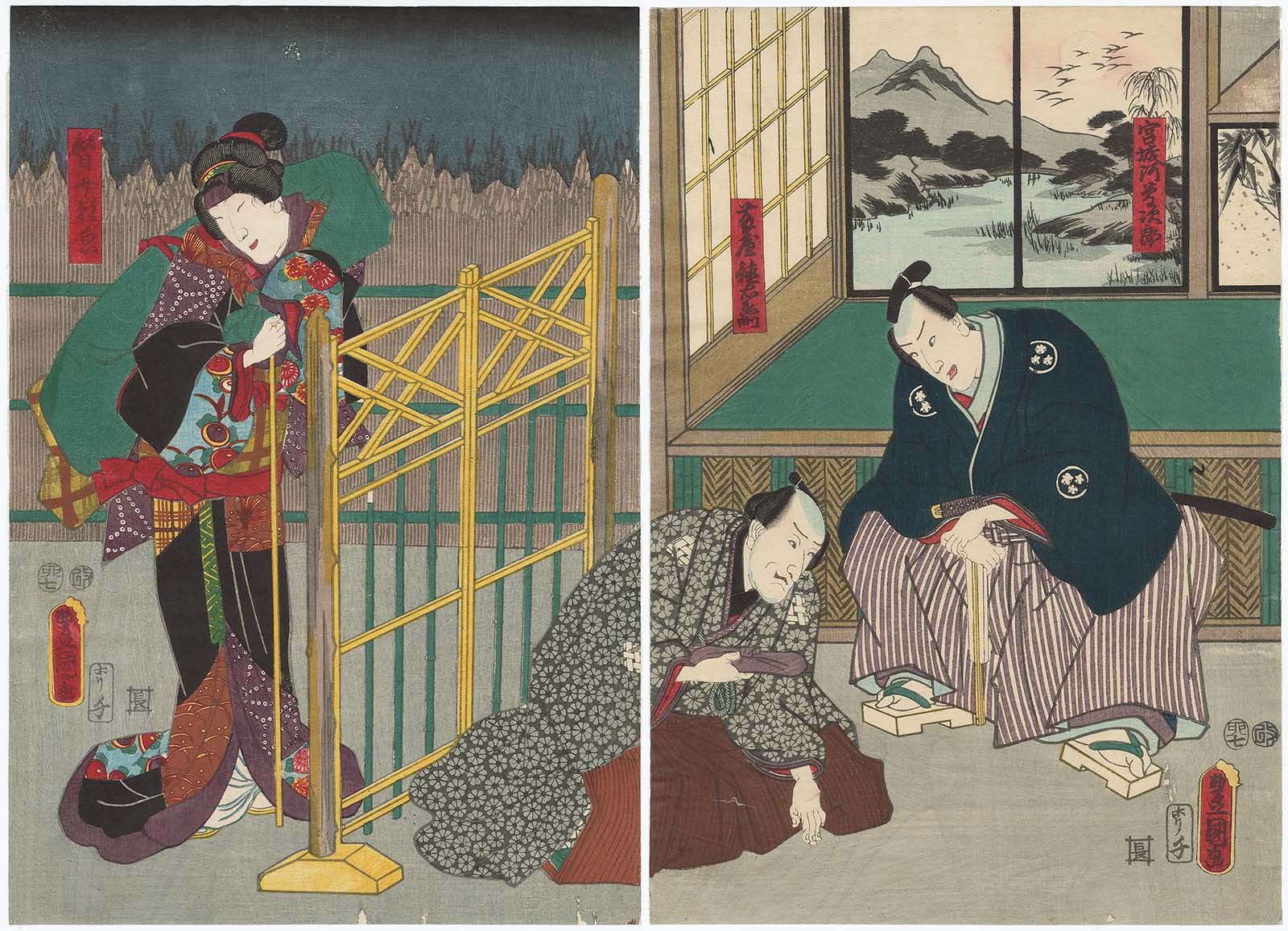 Actors Nakamura Fukusuke I as Miyagi Asojirô, Seki Sanjûrô III as Fujiya Tokuemon (R), and Onoe Kikujirô II as the Blind Minstrel (Goze) Asagao (L)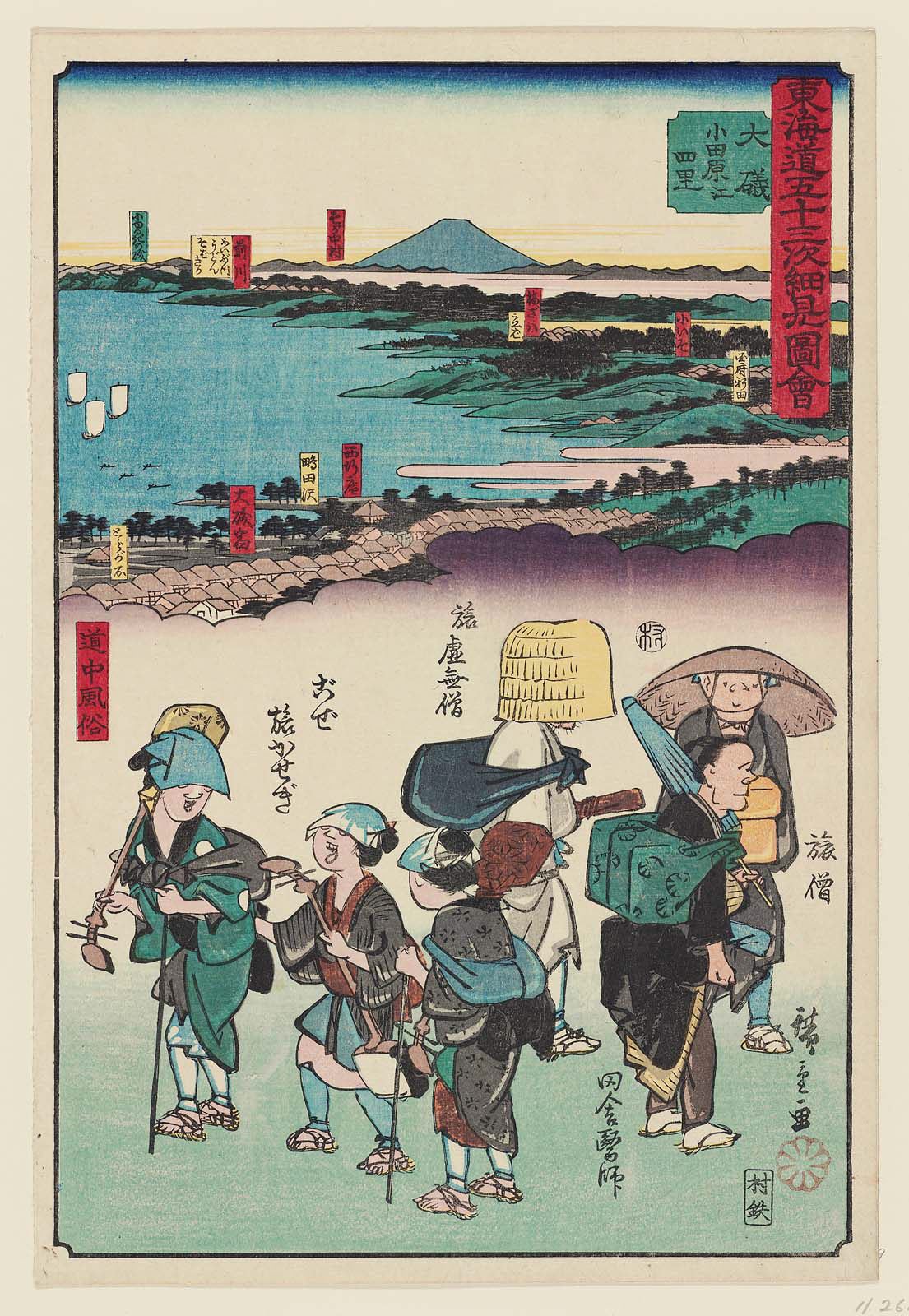 Ôiso: Travelling Monks, Country Doctor, and Goze Musicians, from the series Pictorial Guide to the Fifty-three Stations of the Tôkaidô: Customs of the Road (Tôkaidô gojûsan tsugi saiken zue, dôchû fûzoku)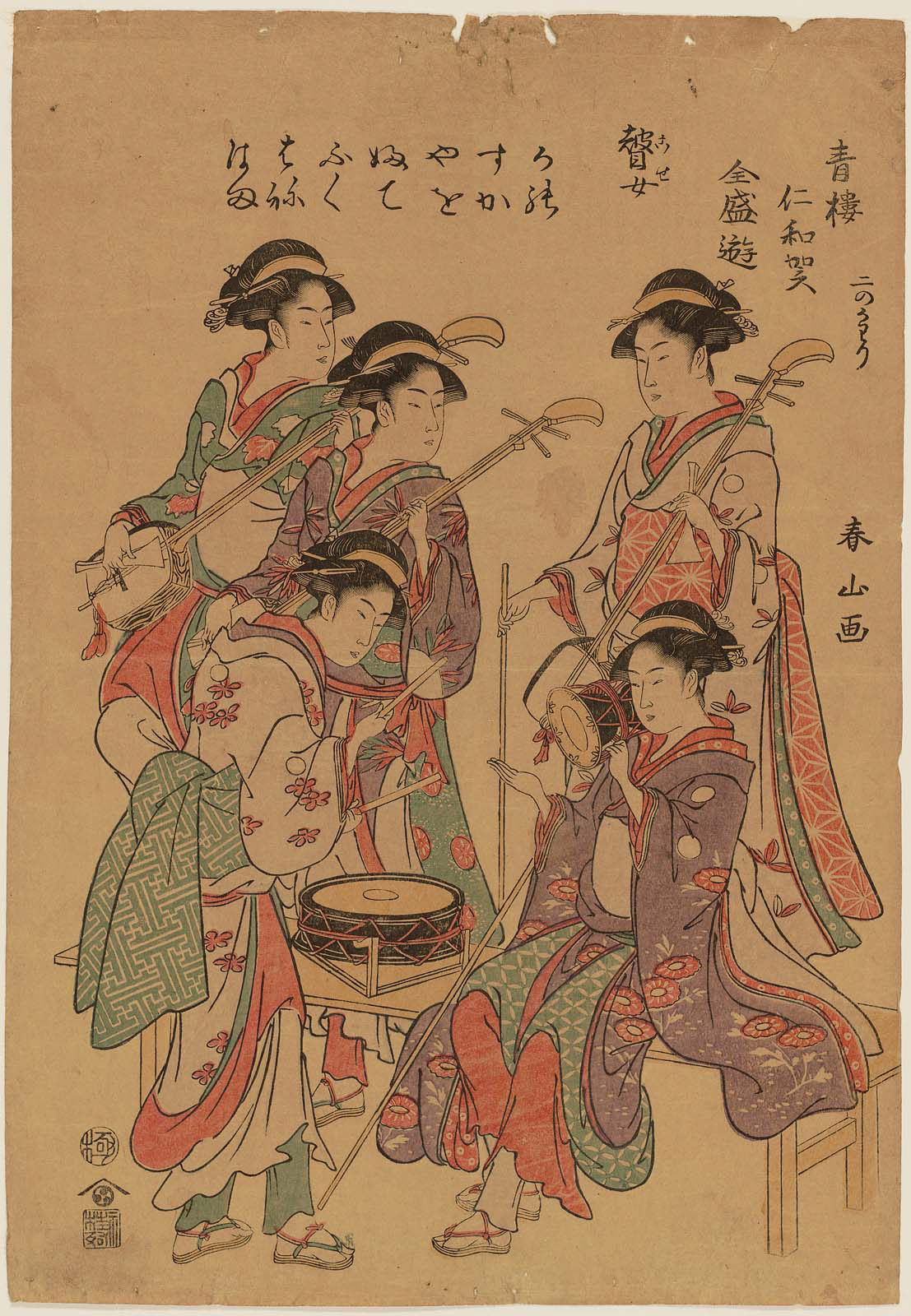 Blind Women Musicians (Goze), from the series Entertainments of the Niwaka Festival in the Yoshiwara in Full Swing, Part 2 (Seirô Niwaka zensei asobi, ni no kawari)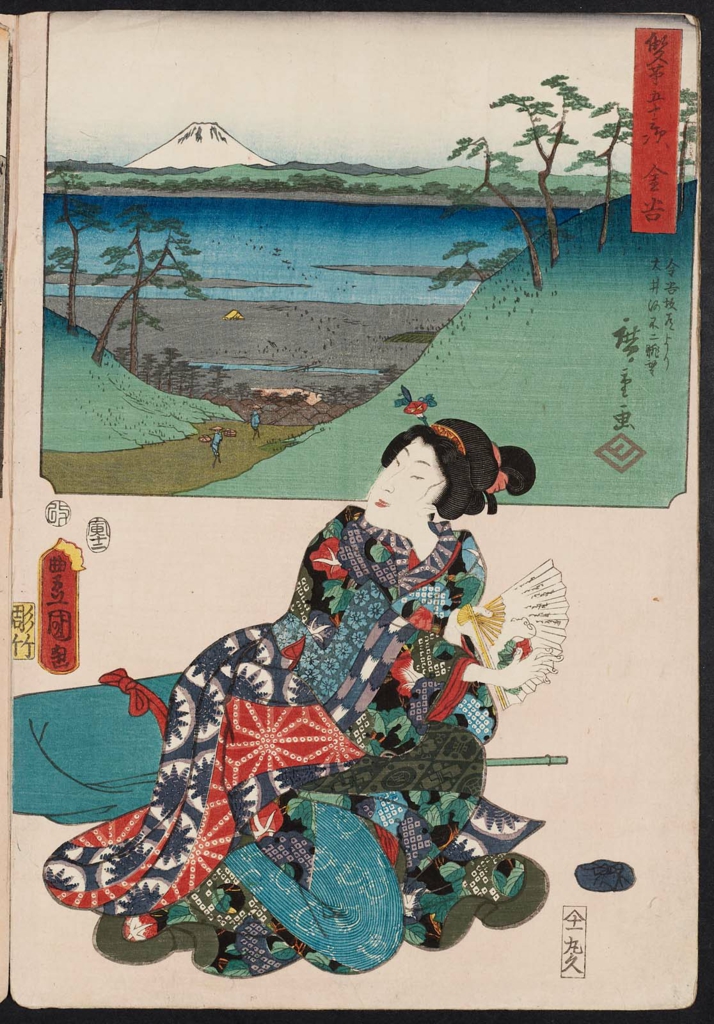 Kanaya: Panoramic View of the Ôi River and Mount Fuji from the Kanaya Slope Road (Kanaya Sakamichi yori Ôigawa Fuji chôbô); Actor Bandô Shûka I as the Blind Musician (Goze) Asago, from the series The Fifty-three Stations [of the Tôkaidô Road] by Two Brush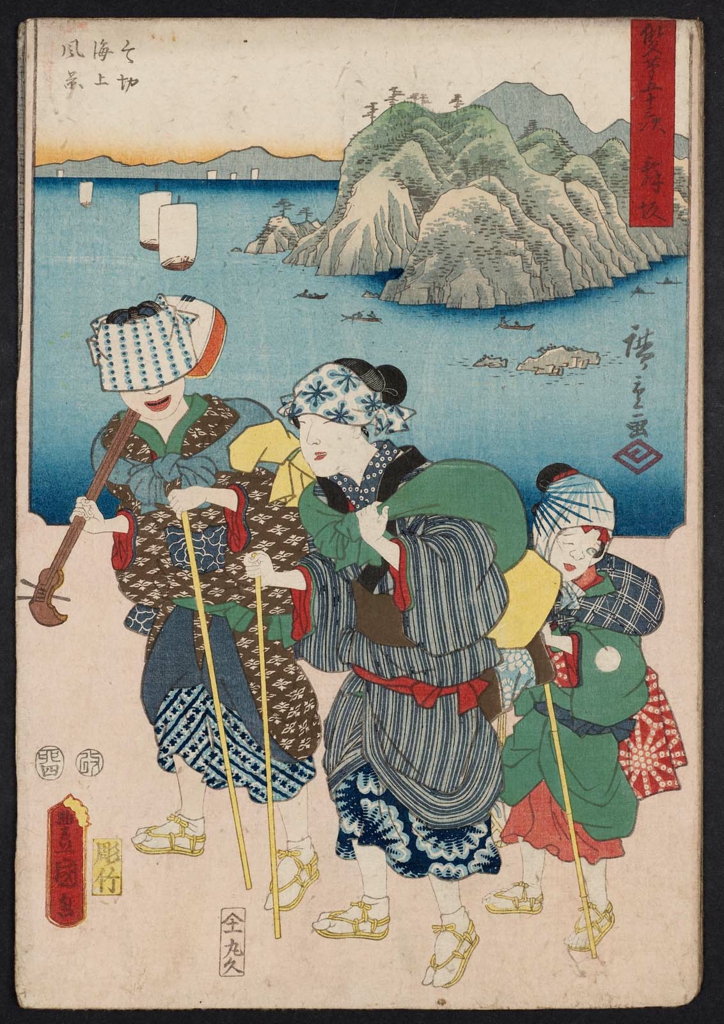 Maisaka: View of the Sea at Imagiri (Imagiri kaijô fûkei); Blind Women Musicians on a Journey (Goze michiyuki), from the series The Fifty-three Stations [of the Tôkaidô Road] by Two Brushes (Sôhitsu gojûsan tsugi)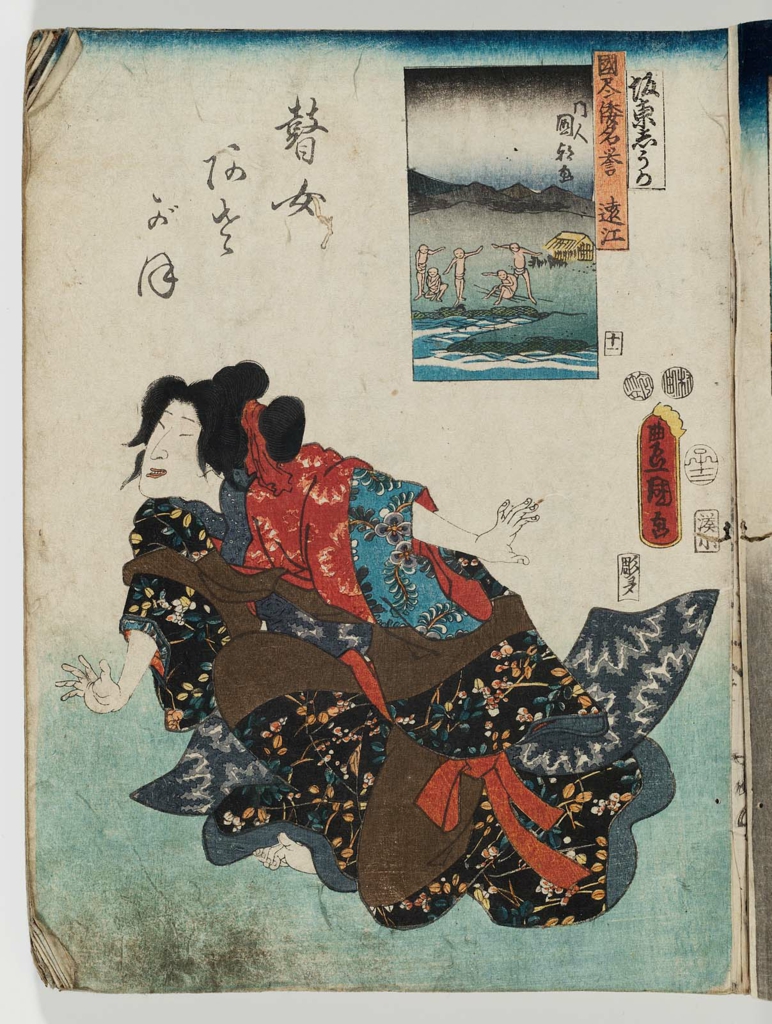 Tôtômi Province: (Actor Bandô Shûka I as) the Blind Minstrel (Goze) Asagao, No. 11 from the series The Glories of the Provinces of #Japan (Kunizukushi Yamato meiyo)
Goze: Women, Musical Performance, and Visual Disability in Traditional Japan by Gerald Groemer (Oxford University Press)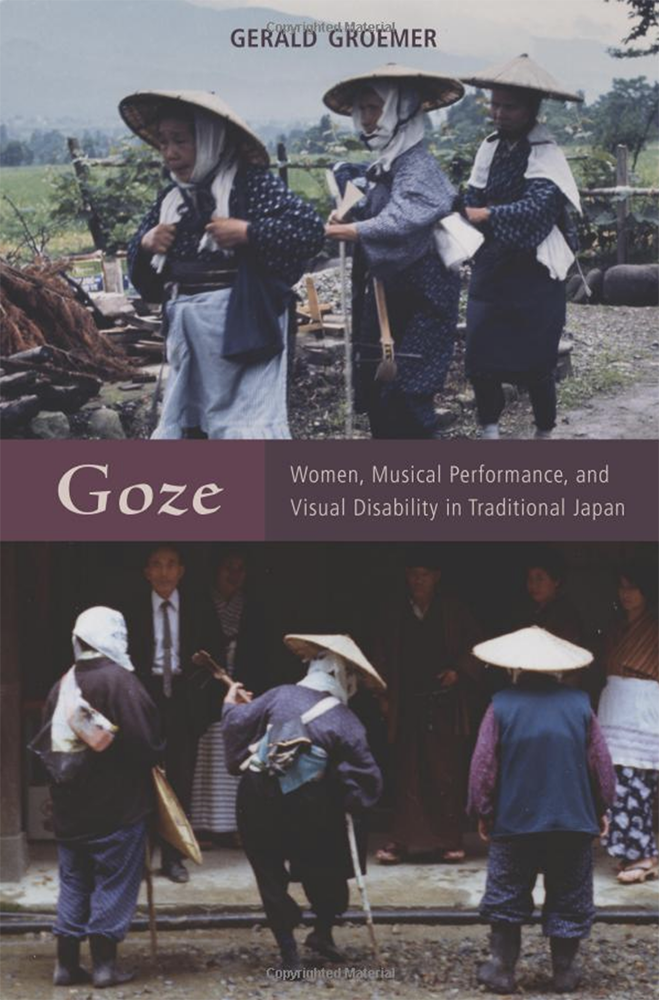 You can buy the book here